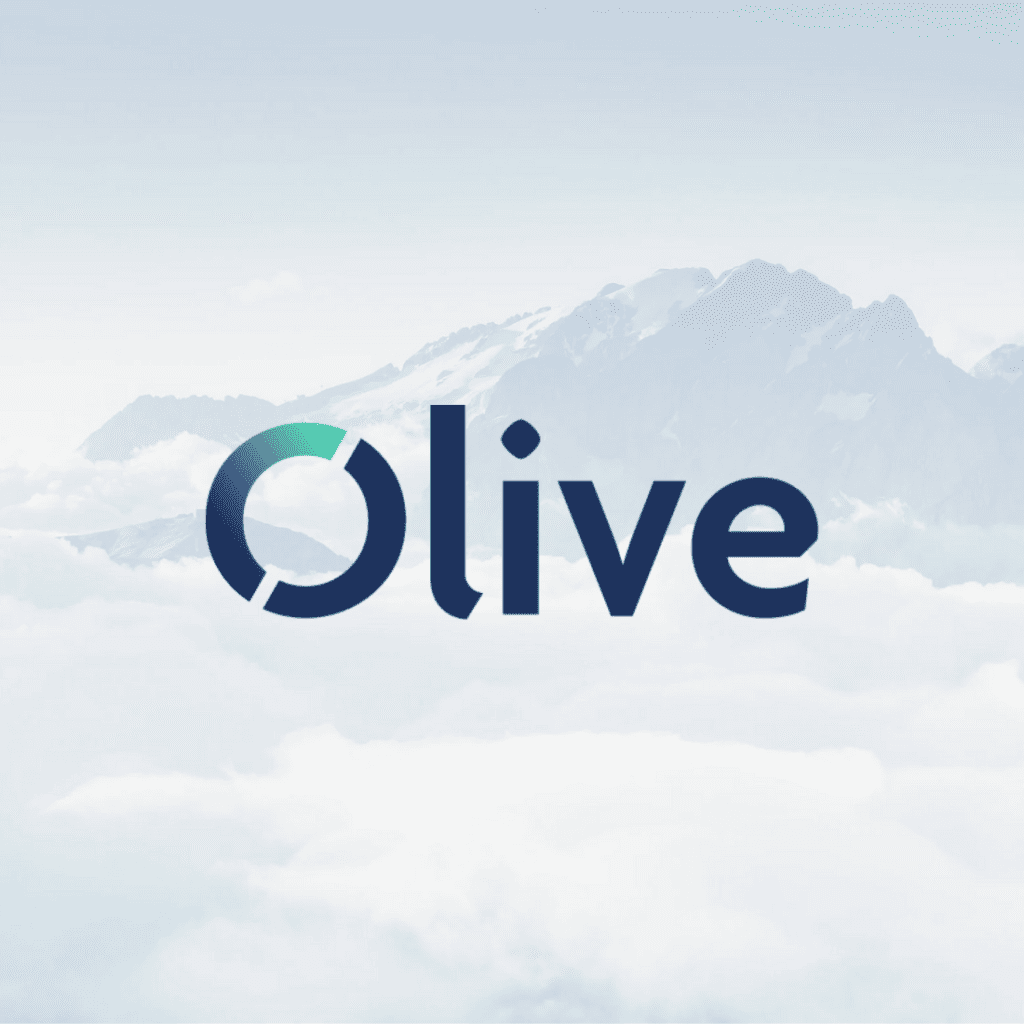 At a glance
Looking to implement an agile platform to provide quality support to over 150,000 global cloud communication users, Olive Communications worked with Atlassian Platinum Solution Partner Valiantys to implement Jira Service Management. Apps Elements Connect and Elements Copy & Sync help Olive deliver quality customer service: Elements Connect fetches key information from an external CRM to help support agents, and Elements Copy & Sync helps automate the sharing of information between teams in ITSM processes. The result is increased visibility, reduced manual processes, and transparency.
Apps used:
---
Olive Communications is a leading managed cloud communications provider enabling clients to migrate to cloud based technologies, including telephony and contact centers. The company has over 3,000+ SME's and 150+ Enterprise clients, and are onboarding new customers on a regular basis. As a result, they provide support to their clients across multiple (now integrated) platforms and are a key point of contact between their vendors, partners and customers. They offer a managed service for clients, which means providing support for 150,000 end users with varying SLA's.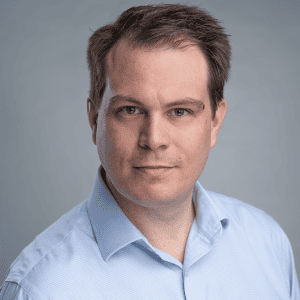 As part of a digital transformation process, CTO Andy Jane realized that the existing support system with Microsoft Dynamics didn't have the features and functions Olive needed to deliver a seamless customer experience, without manual intervention: "We are handling on a monthly basis probably up to 25,000 interactions. We needed flexibility and agility in the platform, and we got that from Jira." With the help of Atlassian Platinum Solution Partner Valiantys, Olive implemented Jira Service Management. Olive customized the platform by using the apps Elements Connect and Elements Copy & Sync.
The Challenge: provide maximum value to customers through an efficient ITSM process that integrates external CRM data
To provide great support services to their clients, Olive worked with Valiantys to implement a Jira Service Management portal to manage customer requests, incidents, and change requests. But for Service Desk Agents to provide efficient service, they needed data from the pre-exisiting Microsoft Dynamics CRM, like the number of users, locations, services, and products.
"Our CRM is obviously the heart of our business; we use it for all our customer management data records. It was crucial that we did not isolate the support part of the operations from the CRM. All our customer data resides in the CRM, so we needed a way to be able to integrate those customers, those accounts, back into Jira," Andy Jane explained.
Elements Connect allows Olive to display key data from the CRM inside Jira Service Management tickets so agents have the information they need.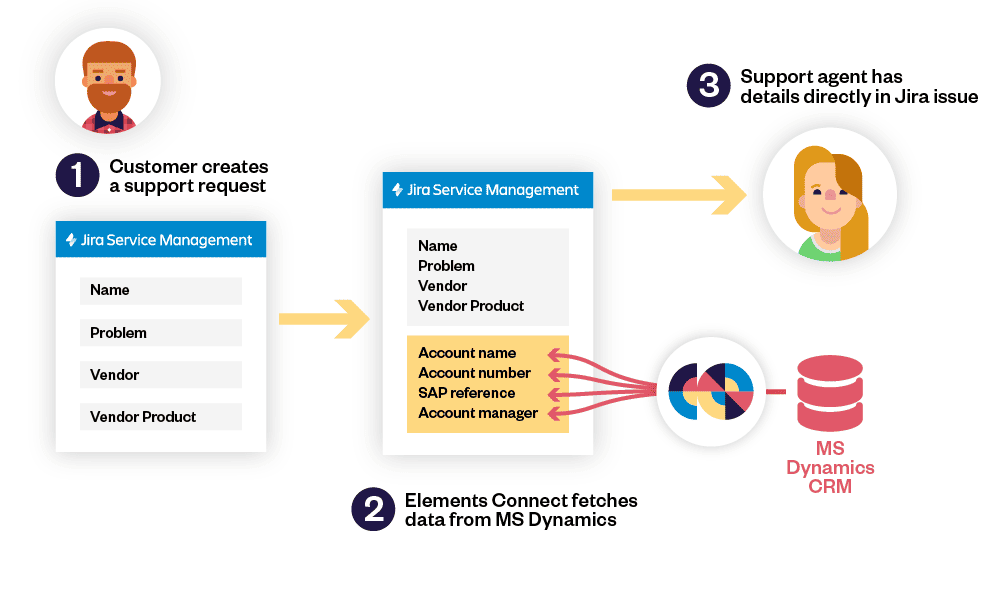 Andy Jane explains why they chose Elements Connect: "The operations teams did not need a full blown CRM; they needed a focused tool from which they could run their part of the business. We do the same with the finance team, they have a dedicated ERP for example. The decision was very much driven around the operations team needing a tool to provide accurate information on customer accounts, avoiding being disconnected from the rest of the business – which is why the Elements Connect piece works well for us."
Invariably, some customer requests can't be solved immediately and need to be escalated or changed into a change request or supply request. Olive uses Elements Copy & Sync to simplify the copying, linking, and syncing of information between tickets and projects to automate this process and avoid manual copy and paste.
"The way our business operates, we receive a lot of customer requests. Some of those requests we resolve first time ourselves, but in some situations we have to transpose the information across to partners. We use Elements Copy & Sync to simplify the approach when we present information to our partners. And also when we transpose information between Jira tickets."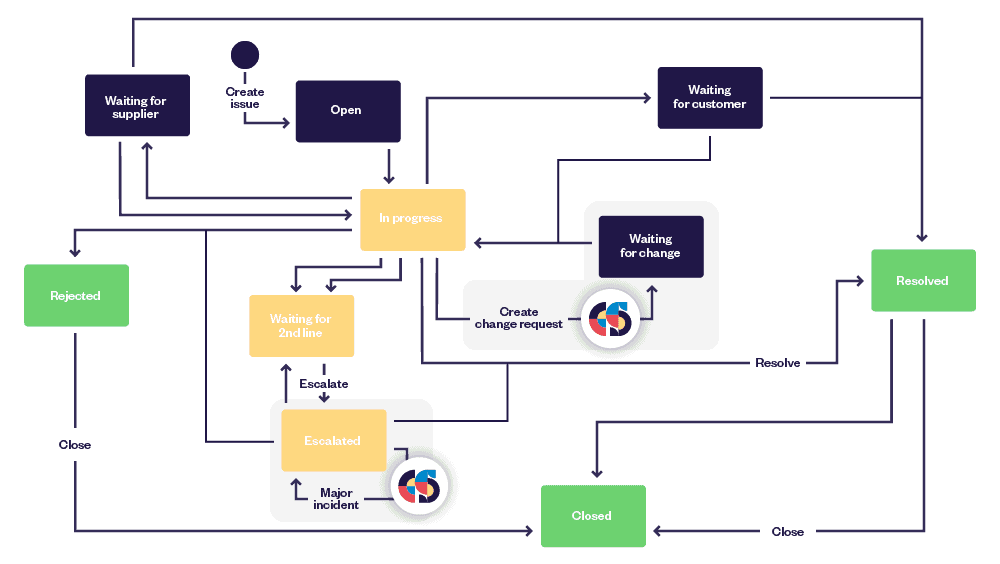 How it works: Elements Connect
When customers log into the Olive Support Portal, their account ID submitted when raising a request is used by Elements Connect to fetch details from the Microsoft Dynamics CRM. Key information that support agents need, such as services used, location or contact details, are displayed in the Agent view. Neither the customer nor the Agent had to enter or copy and paste this basic information already available in another database.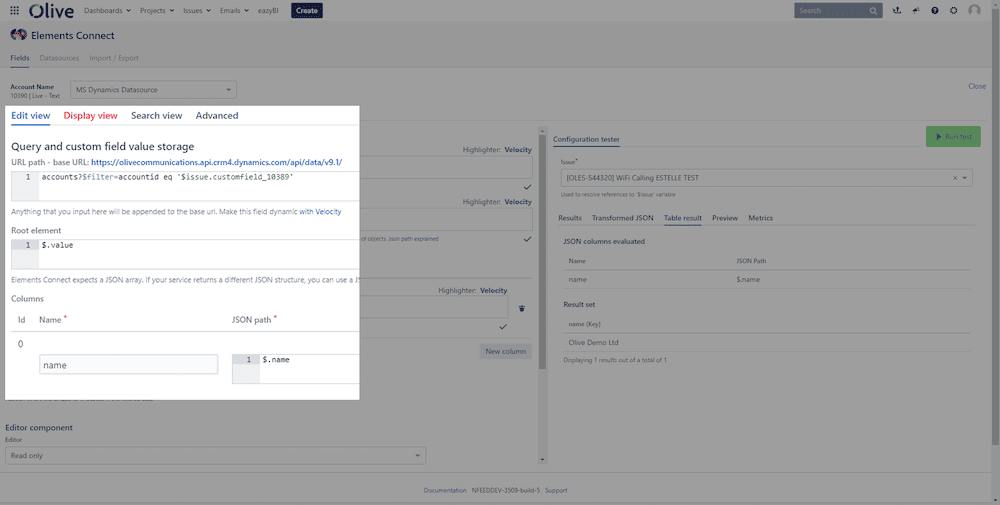 "CRM is still our universe, as a business, so we need to be able to link back into our CRM. So Elements Connect allows us to pull through information such as customer reference code, contact mobile details, etc. We use this function as not to overload information in Jira with customer data – which has a propensity to change quickly. We've got over 150,000 contacts in our CRM platform, so instead of having to update that in multiple places, we're using Elements Connect to pull back these key fields and these data points from our CRM."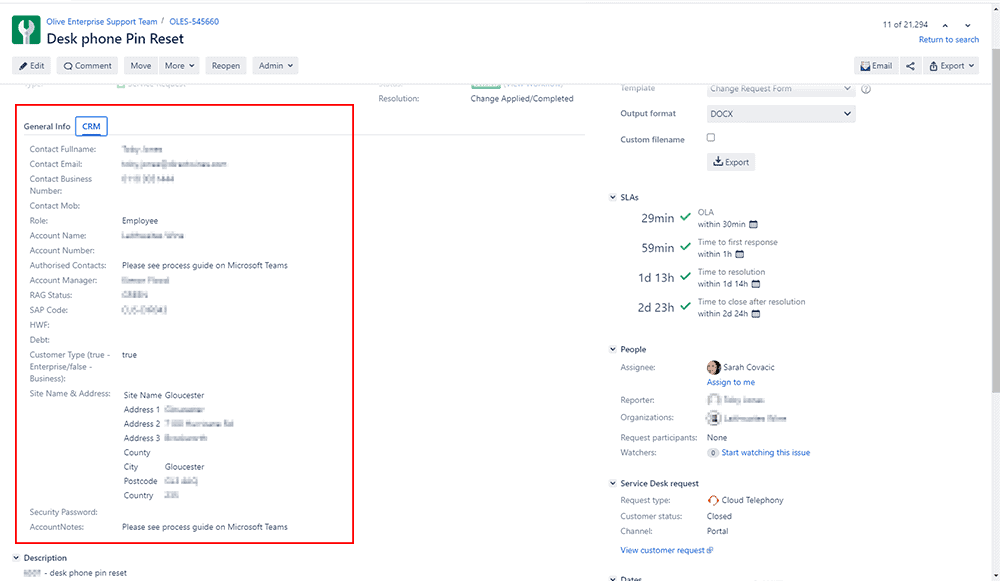 "What we also like about this is that the Elements Connect custom field data gets stored in Jira, and we can use eazyBI to analyze this information, a handy feature! So we get a consolidated BI approach, which is really good. "
How it works: Elements Copy & Sync
If a customer request needs to be transformed or transferred, Elements Copy & Sync operations allow all the necessary information to be copied into a new issue with a click. For example, if an incident created by a customer requires a change request, clicking on the button "Change request" copies everything that's needed from the original Service Desk Incident issue (fields, comments, attachments), and inserts them into a new Change request issue. If the issue is escalated and determined to be a major incident, the transition of the issue to the workflow status "Major Incident" triggers a post-function Copy & Sync operation. The app creates a Problem ticket with all of the necessary fields, comments, and attachments copied automatically.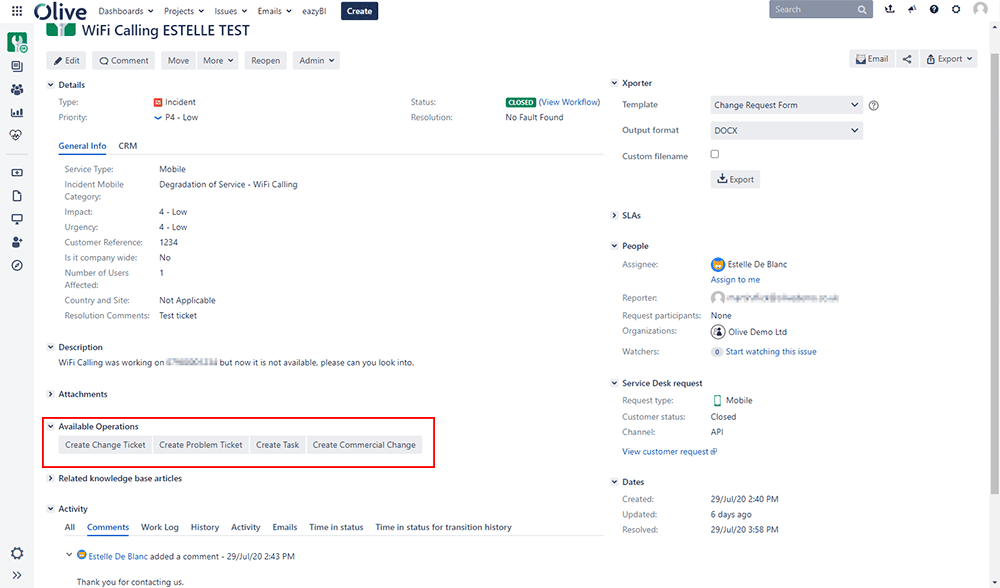 Olive uses four operations in the Service Desk:
| Source | Target |
| --- | --- |
| Service Request | Change |
| Problem | Change |
| Incident | Problem |
| Incident | Change |
| Any | Task |
In addition to copying the fields they need, they also have comments synchronized bidirectionally. That means if the customer adds a new comment to the original Incident issue, it's added to the linked change request or problem issue created by Elements Copy & Sync. This is particularly helpful if an issue has been created by the app in the developers project because it means they automatically have the new comments visible in their project. They don't have to go into Jira Service Management to see if the customer has added more information.
Elements apps driving a massive reduction in manual processes
CTO Andy Jane couldn't be clearer in the impact Jira and the Elements app have had at Olive:
"We have 100% seen a massive reduction in manual processes. We have seen a noticeable increase in the amount of data which is contained within a ticket, and the ease of access to that information. It has optimized the way we work as a business, which is great. Our customers have been providing us with feedback. It's clearly evident that we have changed our service management tool. They are seeing the actual benefits of doing it because we are providing better reporting to them, better visibility to them. Customers have noticed a significant difference in the way that we're driving processes. The whole business is driven through streamlined and automated workflows and processes now. When it comes to operations development, they are all driven through Jira. The key beneficiaries are the customers, without a shadow of a doubt. I've seen a significant change in the way we deliver service to them. Increased visibility, reduced manual process, and complete transparency. Sitting all under one universe, which is Jira."
"Don't debate it, just do it."
Pulling customer data into an agile platform in order to provide the best quality support to customers was the initial goal of the digital transformation at Olive, and Andy Jane advises other companies contemplating a similar implementation, "Don't debate it, just do it." Jira Service Management and the apps Elements Connect and Elements Copy & Sync allowed Olive to complete the transformation of their customer service and achieve their goal of providing maximum value to clients.
"Without the automation, and the connectivity, especially the Elements Connect piece, it would have been a blocker for me for implementing Jira. Valiantys did a great job of delivering it for us, but it was a major requirement that we had good automation. Otherwise it wouldn't have delivered business value. It would have meant simply switching from one platform to another without fundamentally changing any processes."
Looking to see the same benefits? Learn more about our apps