Have you ever been faced to common customer support tickets that have already been solved but not documented? Or a piece of information missing to solve this incident, as the person possessing it is currently out of the office? Or even worse, a customer failing to find the answer he's looking for while despite exploring the documentation?
Then you maybe be experiencing "IT knowledge management processes"-penia!
Worry no more, we have the right medicine for you.
By learning and implementing ITIL best practices for managing knowledge, you can quickly surface the information your customers or employees need to resolve their issues, fast, as well as empower IT teams to deliver great service experiences.
What is ITIL knowledge management process?
Simply gathering knowledge is not enough. ITIL knowledge management definition states that it should be used to build value, and provide the right information to the right people at the right time. ITIL 4 focuses on processes by saying WHAT should be done rather than HOW to do it. The goal is to create value and increase the efficiency of operations.
The ITIL Knowledge Management process is described in three main points:

Creating and maintaining a knowledge-sharing culture
It is necessary to create conditions in which all the employees understand what knowledge is for the organization and to give them the tools to create, use and transfer it.
In that sense, the ITIL Knowledge Management process includes:
changing outdated patterns of knowledge use
enabling the use and transfer of valuable knowledge
strengthening the learning culture in the organization
improving knowledge management practice
identifying knowledge assets in the organization
On-demand information search
One main objective of this ITIL process is to find and provide new information in response to unusual queries, when using the available information systems and patterns it is not possible to obtain a meaningful answer.
Here are examples of scenarios where this process is used to reach that goal:
Custom business analysis to verify the hypothesis
Evaluation of a new technology or business model
Management of complex and rare queries which have not been standardized or automated yet
Knowledge resource management
The process focuses on managing knowledge as a resource (knowledge assets) throughout its lifecycle and on its effective integration within the entire knowledge management environment in the organization. Knowledge assets can be collective and individual, structured and unstructured, implicit and explicit.
Examples of knowledge assets include records of incidents, documented issues and bugs, application source code, reports, design, and technical documentation, etc.
Read more about knowledge management in this ultimate guide: Knowledge Management – Best Practices Guide
Benefits of ITIL Knowledge Management
Why should organizations manage knowledge? For the same reason as humans. Organizations need to make better use of their most important resource – people's knowledge – to turn it into a competitive advantage. Implementing an ITIL Knowledge Management process in your organization will bring several benefits:
Document answers to frequently asked questions to save agents' time
Support agents usually have to deal with frequently asked questions. Losing time answering the same questions over and over again can be avoided by documenting typical answers and making them easily accessible. If you notice that a certain question comes up more than twice, it's a sign that you should document the answer instead of letting your team waste time and resources dealing with it.
Empower customers to help themselves by searching for resolutions in the help center
By analyzing customer requests and tickets, you can find out what the more typical questions asked are, and in which words they are formulated. By properly including these keywords in your knowledge base articles, you'll help the customer get access to articles perfectly matching their request and allow them to quickly find out the answer.
Gather customer feedback to develop more relevant documentation pages
Remember that knowledge also lies outside the organization. Customers using your products can show you a new perspective, find a previously undiscovered error, or even suggest a change. Stay aware of customer feedback to include it in your official documentation.
See how knowledge management can support your IT service practices.
Best practices when implementing an ITIL Knowledge Management process
Here are the seven best practices worth relying on when building an ITIL knowledge management process.
1. Focus on value
When creating articles in the knowledge base, you should focus primarily on the value they provide. The information should be precise and lead the user to solve their problem as soon as possible.
2. Start where you are
An organization is a living organism that is constantly changing. Therefore, any moment to start building a knowledge base is a good one. Don't be intimidated by the amount of undocumented tribal knowledge that only exists in the minds of the longest-serving employees. The most important thing is to get started, the rest will happen along the way.
3. Progress iteratively with feedback
Documentation of larger processes should be divided into stages. Sometimes other people's help can provide a fresh look at the documentation. Then the work should be done iteratively, i.e.: preparing a piece of documentation, submitting it for review, receiving feedback, and making corrections. The process is repeated until the document is finished.
4. Collaborate and promote visibility
The power of a knowledge base is the ability of many people to work on it at the same time. However, it is necessary to build awareness that the knowledge base exists, that it has a real value, and that by supplementing it we make our (and others') work easier. We will then no longer have to solve problems previously solved by someone else.
5. Think and work holistically
Developing a knowledge-sharing culture is essential when implementing this process. Increase transparency with open and shared information instead of keeping documents siloed in emails and folders, or locked behind permissions settings. Invest in technology that connects and unifies knowledge, like Confluence. Knowledge should be easy to search, find, and create, for your entire organization.
6. Keep it simple and practical
The information contained in a knowledge base should be as simple and practical as possible to directly guide the user (customer, support employee) to solve the problem.
7. Optimize and automate
Automation can help you streamline requests without a support agent needing to be called upon every time a new ticket or question comes up. Providing self-serve resources from your knowledge base, as well as keeping track of common requests and resolution processes automatically, can save you and your team time.
How to implement ITIL Knowledge Management with Atlassian tools
Keeping ITIL knowledge management best practices in mind, let's see how you can implement them and build an up-to-date knowledge base to ease the work of support agents and help customers as well.
If you work with the Atlassian stack on a daily basis, the natural choice will be to use Confluence. In combination with Jira Service Management (JSM), you'll get an easy-to-use and functional tool for creating and managing a knowledge base.
Building a knowledge base with JSM and Confluence
Follow this step-by-step tutorial to build a knowledge base with JSM and Confluence from scratch:
1/ If you don't already have a JSM Project for your support portal, you can create a new one by going into Projects > Create Project > and choosing Service Management type.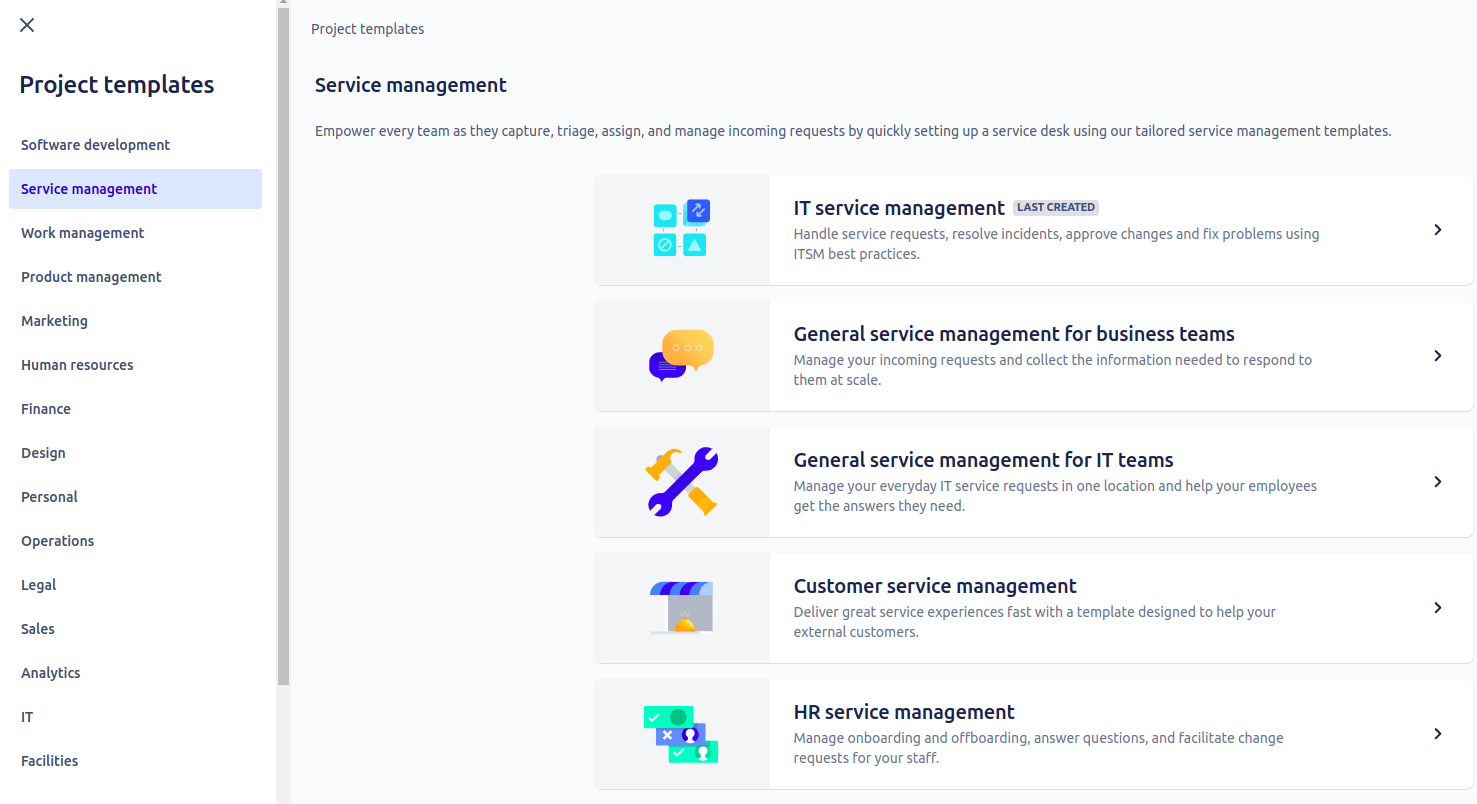 2/ Creating a linked Confluence space
After the JSM project creation, the relevant Confluence Space should be automatically created and linked to the project. If you want to create another space go to Confluence, choose Spaces > Create a space > Knowledge base.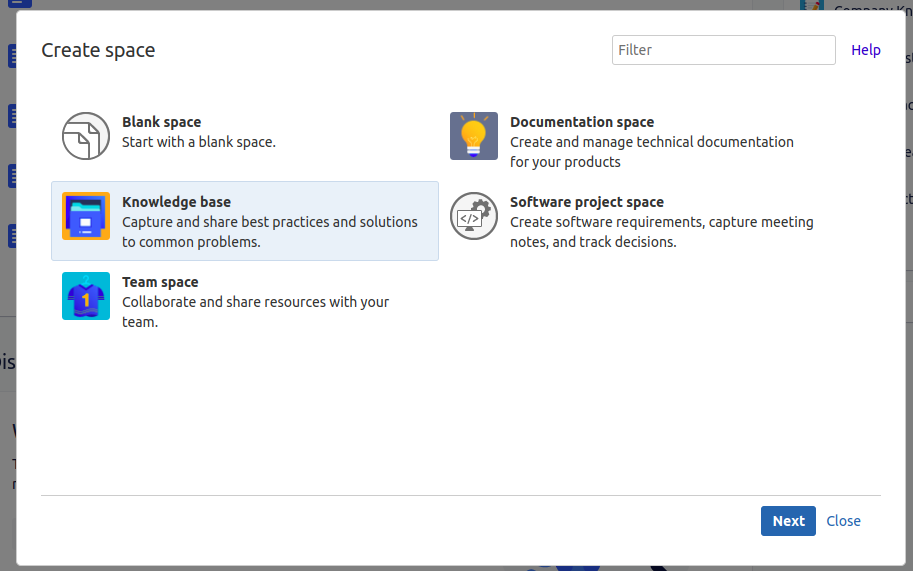 3/ Verifying the linking and permissions
Go to Project Properties Knowledge Base. If the space is already linked with the project, you will see the list of articles there. If it's not the case, or if you wish to link other spaces, click on "knowledge base settings".

There you can link the space by clicking on the "Link Space "button.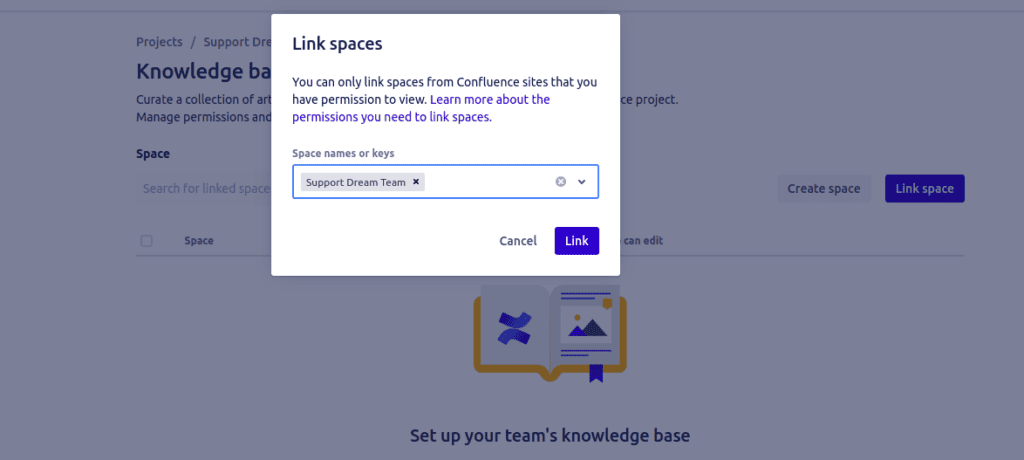 At this point, you can also verify permissions for the Space. If the Knowledge Base is intended to be used by customers, you should allow All logged-in users to view it.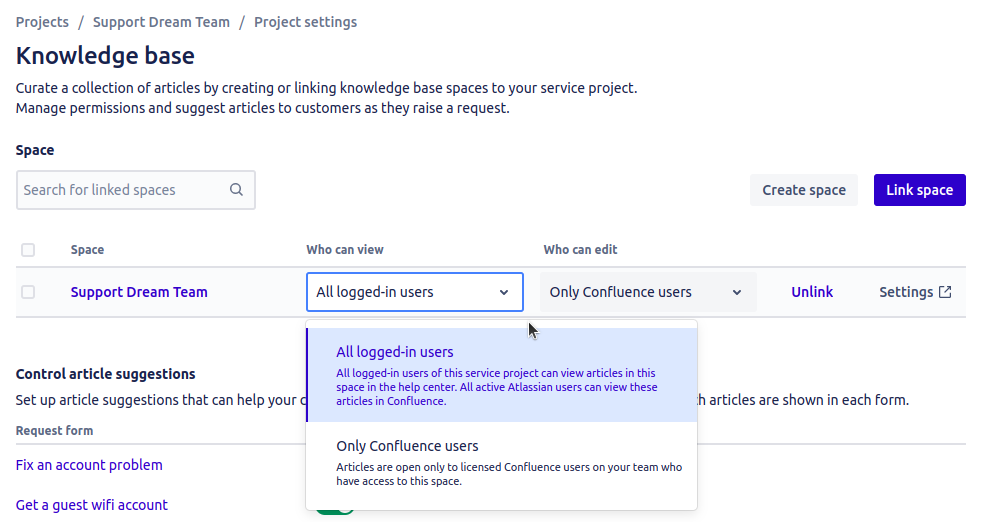 4/ Adding the article from the issue view
Now you can add an article from the issue view. Click on "Knowledge base" on the right side of the issue and on "Create article".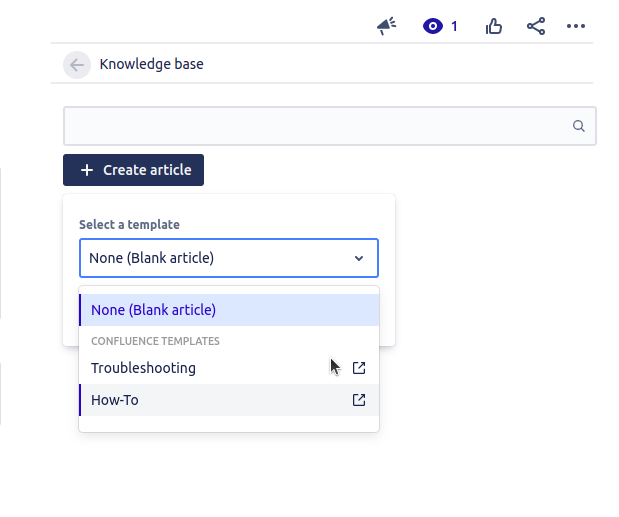 5/ Adding the article from the project view
Go back to Project Properties Knowledge Base (cf. point 3) and create a new article. Once created, you will also get the link to share it with a customer.
6/ Letting customers access knowledge base articles
Customers can find knowledge base articles as well by typing his/her request in the Customer Portal. Suggested articles matching his query will appear below.

What if knowledge-building could happen automatically?
Let's imagine a support agent closes the incident reported by a customer, and just a moment later a new document is automatically published in Confluence gathering information on the request about how it has been resolved. This is where Elements Publish comes into play. This app for Jira Cloud lets you automate manual tasks and make knowledge base building fast, fun, and effective.
Building a knowledge base automatically with Elements Publish
Let's take the use case of an Incident that has been solved and closed on the support portal.
In a well-defined ITIL Knowledge management process, a knowledge base page should be created, usually in Confluence, to store information on the incident and how it has been resolved, to consolidate knowledge and make it accessible to all. This task may be time-consuming, and it can be automated using an app like Elements Publish for Jira Cloud.
Several conditions must be fulfilled:
make it possible to create an article in the knowledge base based on a solved task
the document should be created only for Incident tasks that are resolved with the Done status
the document should be created in the Knowledge Base space and a link to it should appear in the task
the document should include the date of closing the task and its labels
the attachments should be copied to the newly created page
a document can only be created by the person assigned to the task
All these conditions can be implemented with Element Publish by creating a unique recipe, that, when triggered, will automatically create a page in Confluence, gathering all key data on the incident.
Interested in learning how to create Confluence pages automatically from JSM tickets? Take a look at our use case below:
Learn how to create knowledge base articles from Jira Service Management tickets with Elements Publish.