At the beginning of 2019, my colleague Brice Gestas proposed organizing events called "Software Labs Lunch" (SLL) inspired by the Brown Bag Meeting concept. The main idea was to invite technical people (from Elements or not) during the Friday lunch time slot to do ~30 minute presentations about new development languages, tools, etc. It was great, but several problems appeared:
The lunch time was used by many people to do other activities (like shopping, sports, …). Furthermore, this time slot wasn't ideal for our colleagues who work in other countries, like Canada (6 AM it's maybe a bit too early 😴);
Non-IT people were "excluded" by the technical topics aspect;
One or two months could pass without any presentation;
During an internal workshop in November 2019, we decided with Brice to rethink the SLL concept. To solve the previous points, we moved the time slot from lunch to the afternoon and opened the topic scope to any subjects. This solved our first two issues: everyone can participate. Still, a problem remained, regularity of these events. Even if the SLL main idea is to share knowledge, we can't force people to do ~30 minute presentations, it's not logical. That why we decided to split the SLL event in two new formats: Talks (presentations created and given by Elements team members – like the first SLL version) and Vox, which is the subject of this blog post.

Vox concept is based on existing daily interactions: discussions around the coffee machine or during lunch. It's often here that a lot of knowledge is shared by different people on various topics. Inspired by that, Vox events takes the shape of a round table, open to everyone in the company. One after each other, participants have the possibility to share one or more subjects with everyone present. There are no restriction about the topics! Examples from previous Voxs:
Someone presented a nice address in Toulouse: the Eurêkafé. It's a "curiosity coffee" which proposes presentations to discover new science topics, rooms to work with a friendly environment, or just good coffee to drink with friend!
Another person presented an artificial intelligence which wrote a Harry Potter sequel based on the previous books;
In short, every shared topic is different, depending on who is talking and the current context. In fact, not having limitations on topics allows everybody in the company to participate, regardless their position or specialty.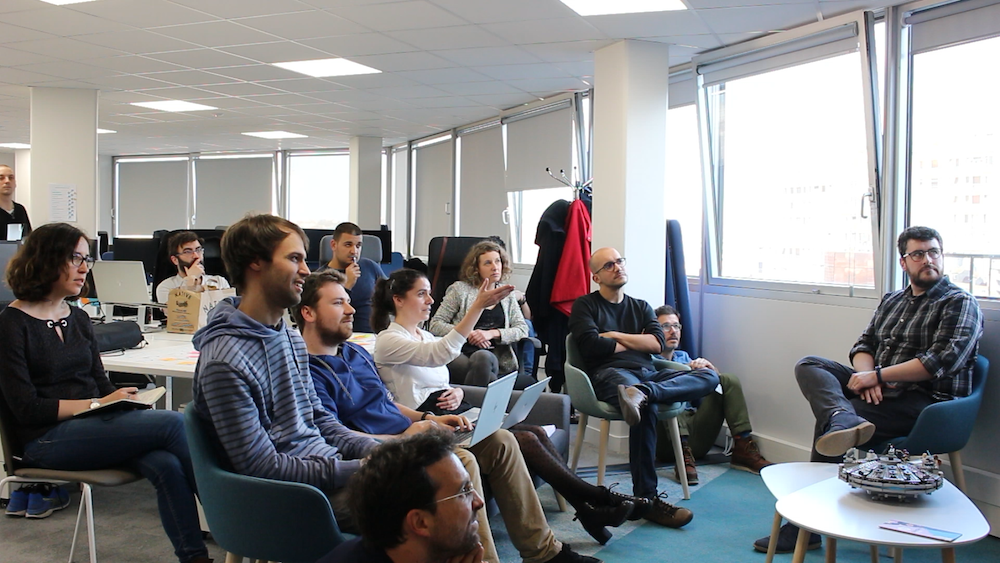 Furthermore, having a subject to share is not mandatory: everyone can come to the event to only listen or ask questions on the shared topics. During a Vox session, it's common for topics to stimulate interesting questions and debates. That's why a chairman is present to coordinate presenters and limit discussions about a topic to 5-10 minutes, in order to let everyone participate. The chairman position is often occupied by Brice or myself, but sometimes we are not available. In this case, anyone is invited to take this place.
Six months after the refactoring, we've really seen that these two events are appreciated by everyone in the company. The Vox gives Elements colleagues the opportunity to talk about topics which only require one or two minutes of presentation, and sometimes, they lead to a complete Talk event, where they are fully developed!