Jira and Confluence have probably come across your radar if you're looking to help your company move beyond an old system like managing requests by email or passing around Word documents. You want to change the culture to be more agile, to use modern techniques for workflow management and project management. Both Jira and Confluence are great to keep track of what you are working on, the status of them, and for your stakeholders to get an at-a-glance update.
But why should you use one over the other? Or should you use both Jira and Confluence? Let's cover the basic differences and similarities of the tools and explain why and how your team should use them.
What this guide covers
What is the difference between Jira and Confluence?
Jira is a task management solution that allows you to track and manage issues throughout the lifecycle of each task. Jira can help with everything from software development to incident management or even HR processes, whereas Confluence is a wiki-based content management tool that allows you create and organize information collaboratively. Organizations commonly use Confluence for knowledge bases, product documentation, or intranets. Both are inspired by agile methodologies and are built around collaboration, but where Jira is great at tracking the status of individual tasks in standardized views, Confluence is great at bringing broader information together with an emphasis on visual presentation and creativity.
Let's take a quick look at the major features of Jira and Confluence.
Features
Jira
Jira comes in a 3 main flavors: Jira Software, Jira Service Management, and Jira Work Management. They all share core components and logic and allow you track issues, but each is geared towards specific needs or teams.
Jira Software: Powerful and flexible, Jira Software is built for software teams using agile methodologies, and includes functionalities for sprint planning, bug tracking, and release management. Jira Software allows you to track affect and fix versions, plan epics and user stories, and analyze your sprint burn down.
Jira Service Management: The ITSM solution from Atlassian, Jira Service Management is a support desk for customers or employees to raise requests. Agents can then manage requests in queues and make sure everyone gets the help they need. JSM provides out of the box configurations for IT service management like service requests, incident management, and change management, but can also be used for facilities management, HR, or even legal teams that need to manage incoming requests.
Jira Work Management: Jira made for business teams: Jira Work Management includes calendar views, Excel-like list views, and basic forms so business teams like marketing, HR, or sales can track tasks in Jira with features adapted to their needs. JWM is only offered on Cloud, though on premise users have a similar experience with Jira Core.
Confluence
Confluence provides your organization a place to organize ideas, content, and files for all your activities. Since Confluence takes care of version control, you can treat it as your one source of truth and rest assured it will always be the up to date version. Favorite features include the search power, content organization and permission management, and the easy WYSIWYG editor.
Limitations
Jira: If you are looking for more traditional project management software, perhaps that includes project cost tracking, Jira wasn't built for that (although there are apps on the Marketplace to add that kind of functionality). Jira is really good at tracking and reporting on individual tasks, but for a broader vision of a project or version planning, it's better to work in Confluence.
Confluence: Confluence does include the possibility to assign tasks, but tasks are either "To do" or "Done". If you need to keep track of a more complex workflow, Jira is a better option. Similarly, if you need to track how much time was spent on a task, Jira is a better option than Confluence.
Pricing
Atlassian sets the price of both tools based on the number of users and is digressive, but Jira is a bit more expensive per user. You can adjust how many users have access to each tool so you only pay for what you need. Jira Service Management pricing is different because it's based on the number of agents replying to requests (customers or employees creating the requests are free).
Get an estimate for how much it would cost your organization with the Atlassian Cloud pricing calculator
Don't forget to budget for apps so you can customize Jira and Confluence for the specific needs of your organization.
Jira vs. Confluence: Comparison Chart
Cloud versions
| Feature | Jira | Confluence |
| --- | --- | --- |
| Assigning tasks | | |
| Workflow management | | |
| Personal dashboard | | |
| Templates | | |
| Support desk | | |
| Knowledge management | | |
| Access control/permissions | | |
| Collaborating/commenting | | |
| Roadmap planning | Very detailed | Basic |
| Project management | | |
| Calendar view of tasks | Jira Work Management only | |
| External app integrations (AD, CRM, Google Drive…) | with apps | with apps |
| Time tracking | | |
| Native reporting | | Premium only |
Why use Jira and Confluence together?
By using Jira and Confluence together, you benefit from their complementarity: Jira to keep track of distinct tasks individuals need to work on, and Confluence share and organize all of the ideas, content, and files you collaborate on with your colleagues.
Single source of truth
By using collaborative tools that allow everyone on your team to create, update, and share information in real time, you'll be able to treat Jira and Confluence as your single source of truth. Whether you need to know which bug fixes are in QA review, where the most up to date documentation pages are, or the roadmap for the marketing team, Jira and Confluence allow everyone to access the same information.
Break down communication barriers
Software developers may spend more time in Jira, and business teams more time in Confluence, but by integrating the tools, everyone can access the information they need from the rest of your organization. Instead of information siloed by team, everyone can access what they need. Imagine the flow of ideas when UX designers, Product managers, and Marketing can work from the same page, instead of sharing each update or comment separately.
Improve efficiency
When requirements are listed in Confluence, and linked to Jira issues, and those issues also link to product documentation in Confluence, there's no searching for information or struggling to make tools talk to each other. Teams that use Jira and Confluence together are more efficient because they spend less time keeping track of work and more time on the work.
How to integrate Jira and Confluence
For Cloud users, integrating Jira and Confluence is automatic as soon as you have both products on the same site. If you only have Jira or Confluence, you can add another product is just a few steps:
Step 1: Open the Settings menu from next to your user icon on the top right of Jira or Confluence, and select Billing.
Step 2: Once in your Atlassian Admin, click on Products in the top menu (between Directory and Security).
Step 3: You will see the products you currently have. Click on "Add Product" and follow the set up wizard to add the additional product to your site.
If you are using Jira or Confluence on premise (Server or Data Center hosting), you will need to go to
 > General Configuration > Application links, Enter the URL of the application you want to link to, and configure with OAuth (with impersonation) authentication. Read Atlassian documentation for more details.
How to use Jira and Confluence together
A picture's better than a thousand words, right? So here are two examples of how to use Jira and Confluence together for project management or requirements management.
Confluence and Jira for project management
Let's take an example project you might be familiar with: migrating applications.
Many teams will start off with kick-off planning in Confluence, where you can take advantage of page templates like Project Plan, Meeting Notes, or DACI, tag everyone involved in the meeting, and start noting tasks, deadlines, and action items.
From there, you can create Jira issues for the tasks and assign them. If you are the Project Manager, you can track and share progress of the various tasks by using a filter to display all the issues related to the project on a Confluence page.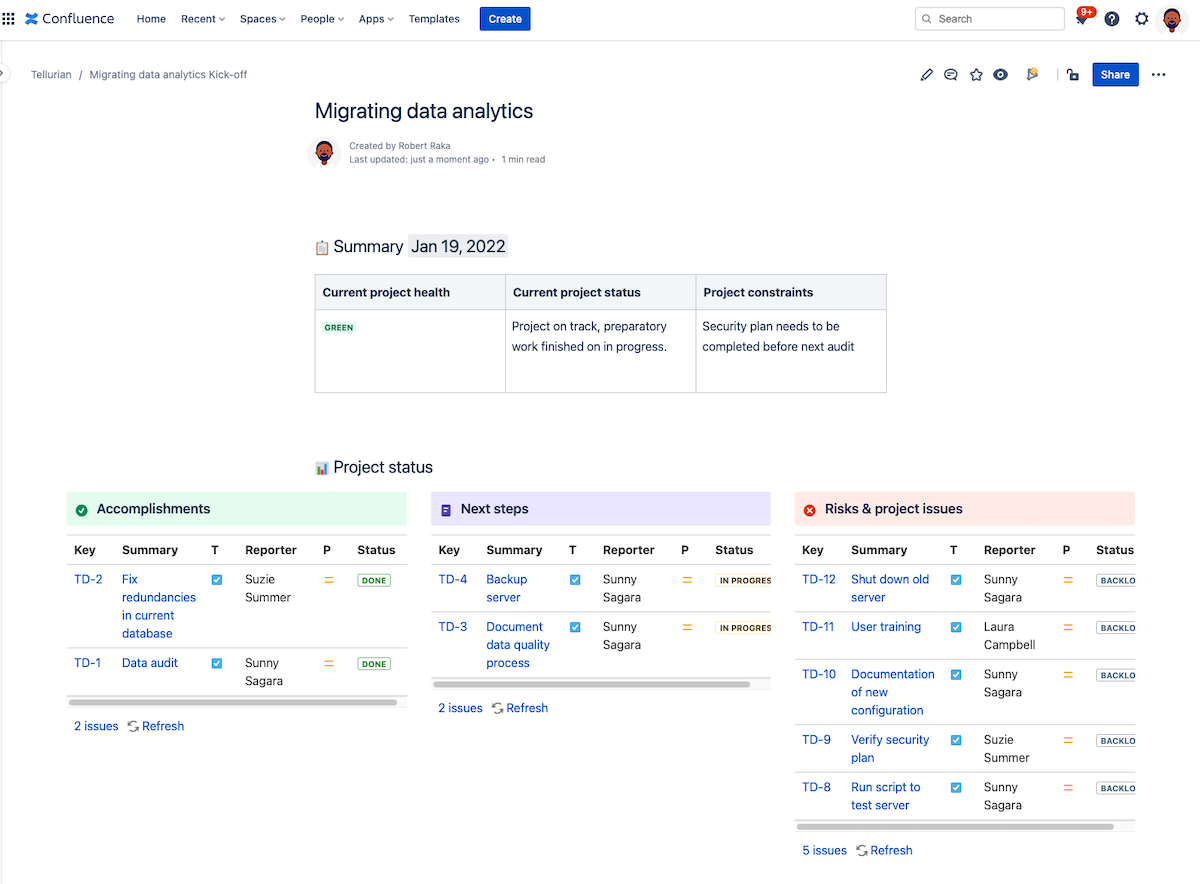 As the migration project continues, the team can use Confluence for functional specifications, technical documentation, and feedback on the migrated tool, with everyone on the team able to see, comment, and collaborate on those documents. Any files or assets needed can be added to each page, so team members don't have to remember where to look on a shared drive. If configurations or features need to be reviewed once the application has been migrated, you can use a 'Review' status in your Jira workflow and assign the issue to a team member.
Jira and Confluence for requirements management
Create, share, get feedback, update, rinse and repeat: Jira and Confluence are the agile solution to requirements management throughout the life of your product development.
Confluence ships with a blueprint, or template, for requirements management, so you can get started right out of the gate. You can then solicit feedback and comments from multiple stakeholders, who can either comment the text directly, comment the page, or update it themselves (you can always check the page history to see the changes).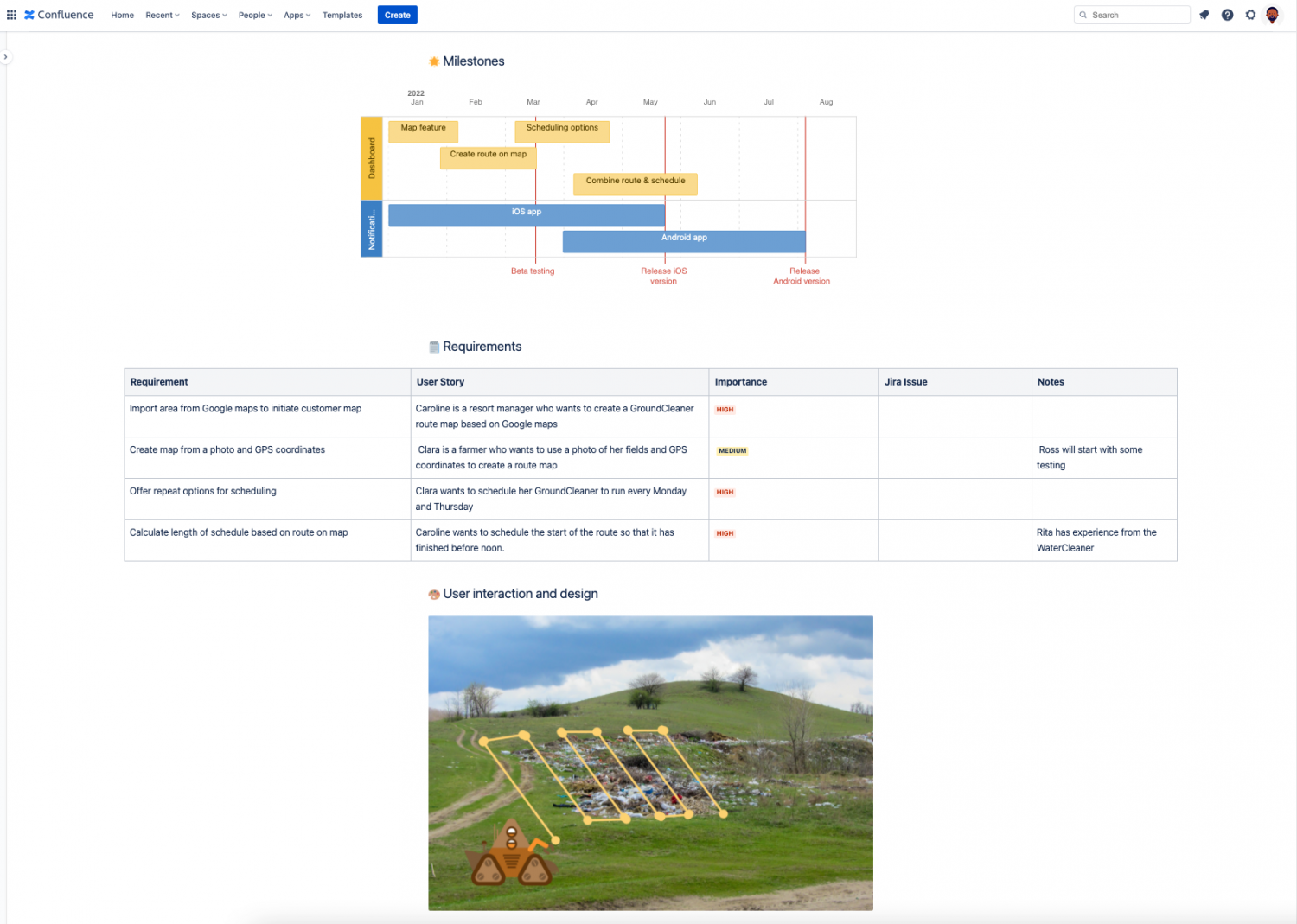 If you have customer interviews or other research that is useful background information, you can link those pages directly from your requirements management page.
As the requirements are detailed, you can start creating User Stories for them in Jira directly from Confluence by highlighting the text.
If you need to include wireframes, mockups, or prototypes on a Confluence page, there are multiple apps that allow you to do that so everyone can keep all your work together. Team members can even comment mock ups just like text or other images.
Confluence automatically creates a page summarizing the main details from all your requirements management pages if you use the blueprint, so you can see at a glance the progress of all your different projects.
Get your team on Jira and Confluence
You want an agile, modern solution for your team, and Jira and Confluence provide that. By using them together, you'll get the most out of both tools and see the benefits: a single source of truth, breaking down communication barriers between teams, and improved efficiency. The whole really is more than the sum of the parts! Curious to learn some concrete examples of the different ways you can use Jira and Confluence together?