So your company is going agile too? Jira this, Confluence that? There's no mystery about why so many companies are diving into the Atlassian ecosystem: Jira is a powerful tool for software development, ITSM, and recently business task tracking too (hello Jira Work Management 👋 ) Confluence is the content management system perfect for corporate intranets, product documentation, or customer portal knowledge base articles. If you've been inspired by our explanation of why you should use Jira and Confluence together but don't currently have the tools integrated, read on.
Why set up a Jira and Confluence integration?
The simple answer: reduce silos between teams, of information, and of processes. By integrating the tools, you'll enhance the productivity of your teams: they will be taking advantage of the full potential of Jira and Confluence. Once set up, you will be able to publish issue data to Confluence, publish your Jira roadmap to Confluence, or even create issues directly from Confluence. Check out our article covering 8 ways to use Jira and Confluence together to see more ways the tools work together.
If your company already has both Jira and Confluence, but they aren't integrated, setting up an integration will help your teams make the most of their time by avoiding bouncing back and forth between them to get their work done. You'll reduce frustration among your users.
How to integrate Jira with Confluence?
The process to follow depends on the hosting you are using: Cloud or On-Premise versions Server or Data Center. (BTW, if you aren't sure if you are on Cloud or Server/Data Center, look at your url or the bottom of your page as explained in this Community article).
Differences between a Jira and Confluence integration in Cloud versus Server/Data Center
What are the main differences?
If you are on Cloud and have added Jira and Confluence to the same site, the integration is done automatically
If you are on Server or Data Center, you have to configure the integration manually.
Setting up the integration through Application Links for Server/Data Center
As explained in Atlassian's documentation, the integration can be done with the bundled app Application Links that allows you to connect Atlassian products to each other. Here are the 4 steps, starting from Confluence.
Go to your general configuration and with a quick search, you can choose Application Links.
Enter the URL of the Atlassian product you want to link (in this example, Jira).
Follow the different steps inside the wizard to configure the link.
You will be redirected from Confluence over to Jira to confirm the app link in the other direction (and then sent back to Confluence to finish the process).
⚠️  When you are configuring the Application Link you will have a choice between the option "The servers have the same set of users" which will use an OAuth authentication, or the option "I am an administrator on both instances" which creates a one-way link. When you use a one-way link, you will be in a read-only operating mode.
If you run into any problems, check out the troubleshooting guide provided by Atlassian.
Jira and Confluence integration in Cloud
When we are working with Jira and Confluence Cloud, nothing could be simpler. If you are using both tools on the same site, the integration will be done automatically as soon as you have both products.
If you are using Jira Software, you can quickly connect your Jira project with a Confluence space or page using the feature "Project Pages":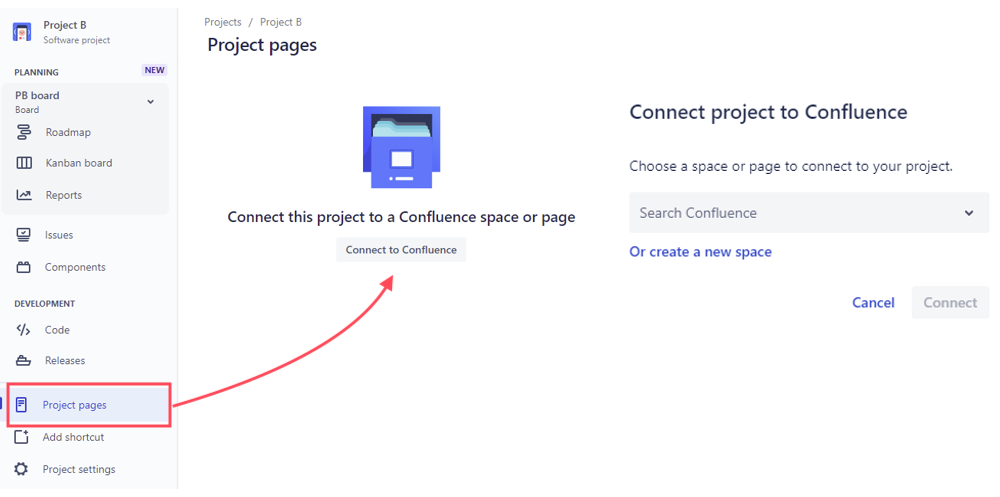 If you want to link between Jira and Confluence instances on different Cloud sites, you will however need to configure an app link.
Remote App Links on Jira Cloud
To set up your link between different Cloud sites, find Application Links through the administration panel (try the shortcut "GG" to pull up an administration panel you can search from).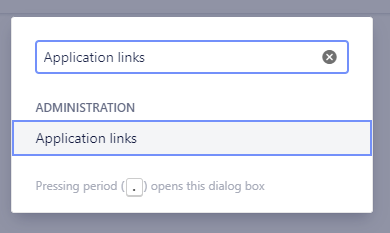 From this point, copy/paste the url of the site and product you want to link link:

If you are not the admin of the remote Cloud instance, a popup window will open in which you will have several options to configure this new link: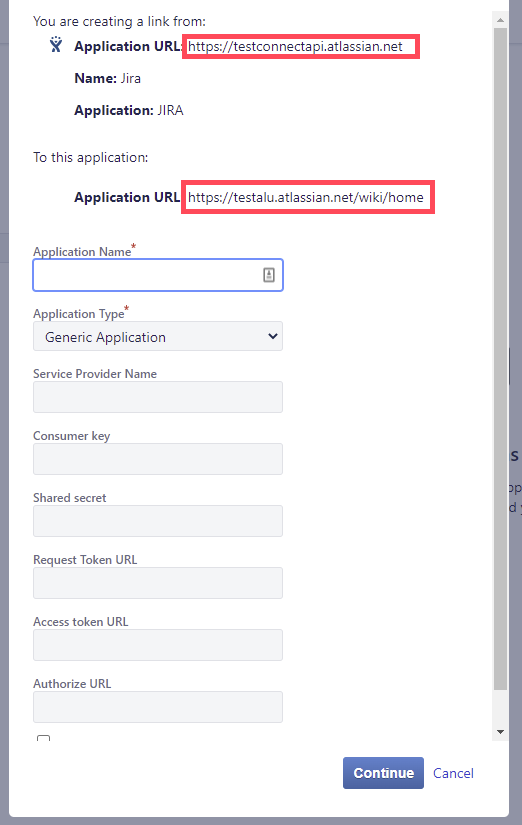 Otherwise, you'll just be directed to the remote instance to confirm the link, then returned to your original instance. That's it, you just integrated remote Jira and Confluence Cloud instances.
Your team can easily use the new Jira and Confluence integration: the remote Jira is accessible for example in the Confluence Jira chart with only a few clicks.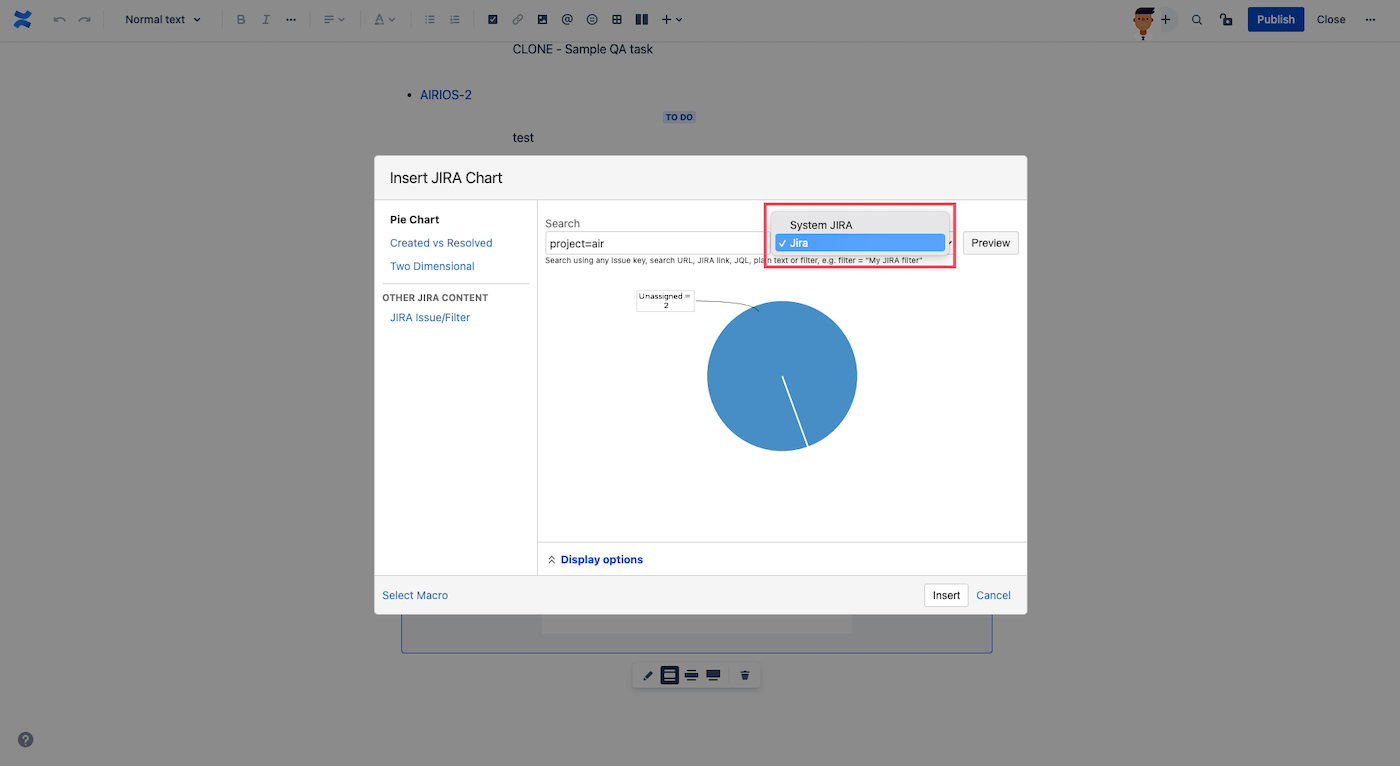 Get the most out of your Jira and Confluence integration
Once you have integrated the two tools, you'll be on the path to easier project management and improved productivity of your team. When you integrate Jira and Confluence and use them together, you have the right information in the right place, optimized processes for your team, and you might even deliver faster.
Ready to practice? Try publishing your Jira Roadmap to Confluence, creating issues directly from Confluence, or even publishing issue data to a Confluence page.