You probably already use Jira and Confluence together, for example adding a link to a Confluence page to a Jira issue or creating a Jira issue by highlighting text on a Confluence page.
But what about creating a Confluence page from a Jira Cloud issue? We're thrilled to share that it's now possible with our new app for Jira Cloud: Elements Publish to Confluence.
Elements Publish to Confluence simplifies the process of creating a Confluence page directly from Jira, 0 scripting or webhooks required, and it can be set up in minutes for teams using Jira Software, Jira Service Management, or Jira Work Management.
Create a Confluence Page from Jira
Elements Publish to Confluence lets you design templates to publish issue data to Confluence as part of your team processes. Each recipe allows you to design a different page, specify where it will be created in Confluence, and from which Jira issues it can be used.
When creating your template, you can insert issue data, specify whether or not labels and attachments should be copied from Jira to the Confluence page, and also decide if you want a link added.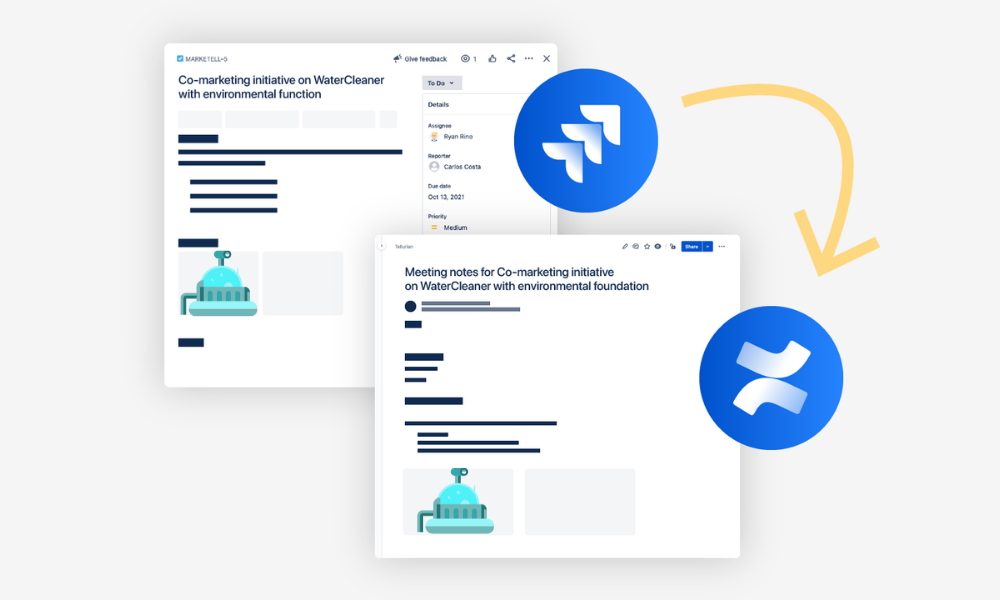 In Jira create Confluence page from template
It's easy to set up a recipe in Elements Publish to Confluence.
Step 1: Define where the recipe will be available
Do you want to create a page for bug analysis? Make your recipe only available for bug issues. Need to publish issue details for a post-mortem? Set the issue type then the status to resolved (tip: you can trigger the recipe when the issue is resolved). Want to create a page for marketing campaign notes? Make the recipe only available in the Marketing project.
Step 2: Define where the page will be created
If we could read your mind, we would. But for now you need to chose the Confluence space and the parent page where you want the new page to be created.
You can also activate in the Target tab the option to automatically add a link to the Confluence page in your Jira issue.
Step 3: Design your page
Finally the good stuff!
The in-app text editor lets you configure the content and layout of your document. With the wysiwig editor, it's easy to insert data from your Jira issue into your Confluence page, and you know what your page will look like. To provide a complete picture of what is in the Jira issue, you can also copy attachments and labels to your Confluence page.
Is your team already using Confluence templates, like the ones provided by Atlassian or maybe one you created? No worries, you can keep using them: you can inject Jira data into any existing Confluence template.
💡 Tip: set up the page title combining static text like "Bug analysis of:" with details from the issue like the summary or key. Your page title will be dynamically created each time the recipe is used.
Activate your recipe, and you're ready!
Trigger Confluence page creation automatically from Jira with a post-function
Has your team forgotten to create and link the bug analysis/post-mortem/knowledge base article AGAIN?
Make it easy for everyone by adding a recipe as a post-function to a workflow transition. When Jira users transition the issue, the new page will automatically be created in Confluence. This is a perfect opportunity to use the issue summary to dynamically create the page title since users won't be able to modify the page title when the recipe is triggered by a transition.
If you have several post-functions already added to your workflow transition, you may want to add a few seconds delay to the execution of the Elements Publish to Confluence recipe to optimize the performance of your instance.
Publish to Confluence: post-mortems, meeting notes, marketing campaigns & more
Elements Publish to Confluence can help lots of different teams that need to regularly create pages with details from Jira, no matter whether they are using Jira Software, Jira Service Management, or Jira Work Management. Here are some of our favorite use cases:
Bug analysis: insert details from bugs raised on your support portal onto a Confluence page so team members can add details and analysis
Post-mortem: add the recipe as a post-function to a workflow transition and automatically create a post-mortem in Confluence and insert details from your Jira issue when you transition the incident to closed
User story details: insert details from the User story and Epic onto a pre-formated Confluence page to add details
Release details: automatically generate a Confluence page with all the details from a release ticket when you transition it to done by adding the recipe as a post-function
Knowledge Base article: apply labels from the Jira issue to your Confluence page and make information easily searchable
Meeting notes: use the dynamic page title option to generate a page for notes based on the summary of the issue and activate the link option so meetings notes are easy to find from the issue
Marketing campaign: insert all the campaign details and collaterals from your Jira issue onto a Confluence page and get started on the details of your marketing campaign
Employee onboarding: new hire request received on Jira Work Management? Publish all the details on a Confluence page where the manager or team members can add details
RFP process: Jira Work Management forms are perfect for the RFP process, and everything submitted can be easily published to a Confluence page for the next step in the process
Have you made it this far only to realize this won't work for you because you are on Jira Server or Data Center? We've got you covered: our on premise version of Elements Copy & Sync allows you to create Confluence pages.
Start creating pages from Jira
Sound like something your team would like? Get started with a free trial, then let us know what you think.