Delivering great customer service means creating personalized experiences, no matter where and how customers interact with your company. It is especially important when customers are facing problems and contact your support team through Jira for help. But to provide this tailored experience, your support team needs to have context.
In this blog, we'll see how you can empower Jira Service Management agents and support managers to deliver smarter service by using Elements Connect to build a bridge for your Salesforce CRM data to cross into Jira.
When siloed information creates chaos and frustration
Imagine you're in the audio guide business. Your company makes audio guide devices and software that museums brand and use to provide their visitors with guided tours. Your clients love how easy the audio guides are to configure. Their visitors enjoy the details about the exhibitions the audio guides give them.
But behind the scenes, this kind of scenario happens: the audio guide's sound suddenly stops working on several devices or the museum's script crashes on all audio guides after their employees updated it. They turn to you for help, panicked as hundred of visitors comes to their venue every single day.
This is where our story begins: on one side you have business data stored in Salesforce, and on the other side Jira is used by clients, engineering teams and support teams to manage Jira issues related to to clients' assets.
Without any kind of bridge between Salesforce and Jira, here are the two scenarios that can happen: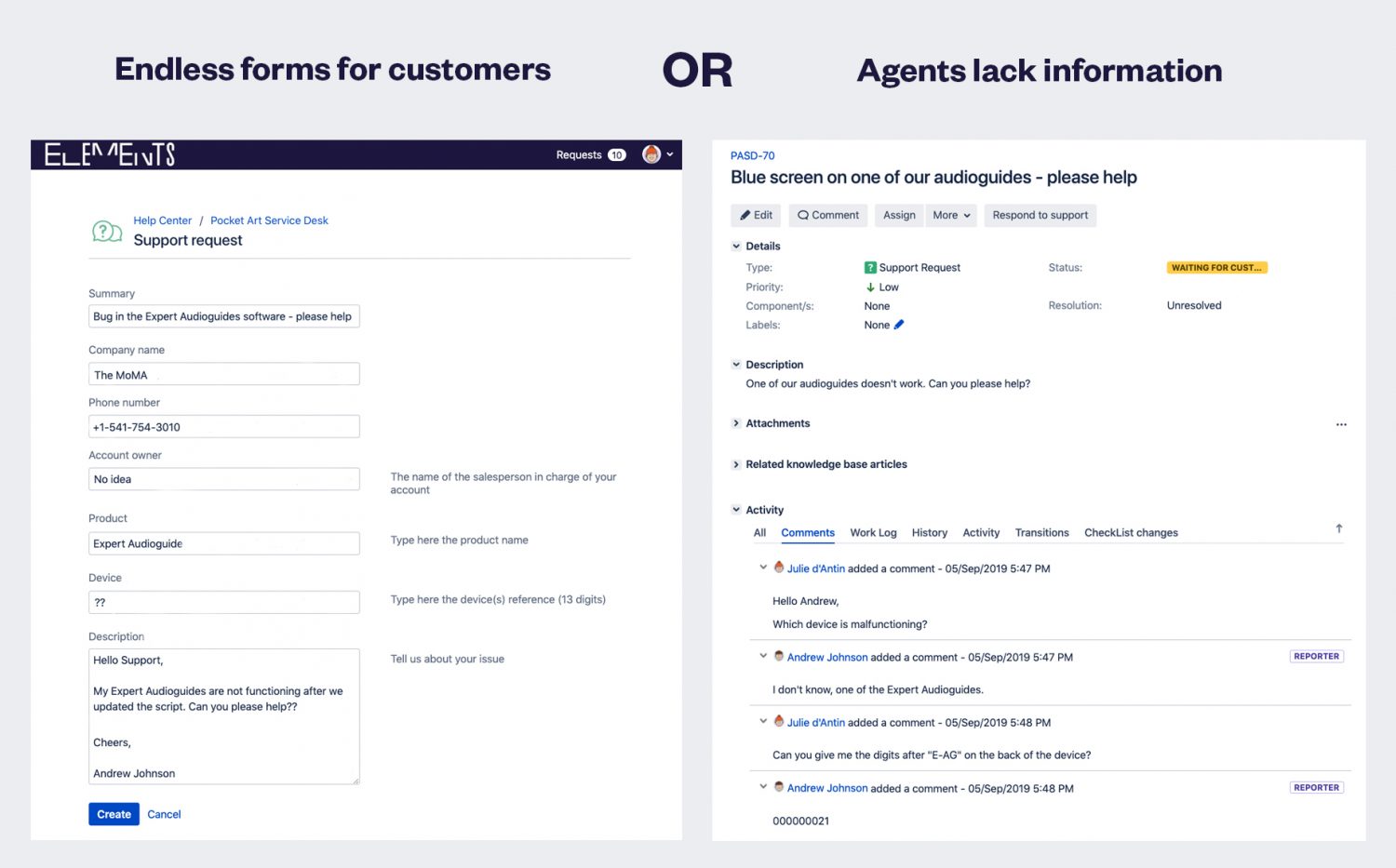 Customer needs to fill an endless form. When they already have an issue, customers don't need this extra frustration. Also, having this information input manually opens the door to typos and misspelling which can make the agent's work a pain.
Support has too little context to provide an accurate answer to the client's problem. This means either the agent will have to do a lot of back and forths with the client or the agent needs to have access to Salesforce. However, this means switching context and loosing time; plus you increase the Salesforce bill for someone who just needs to access information in his Jira context.
So, how can you respond with accuracy to this kind of issues with minimal effort for both the client and the support team?
Bringing Salesforce data in Jira issue with Elements Connect
Elements Connect is an app that allows you to connect Jira fields to external data sources such as Salesforce. Let's see how this app can help you connect the right people to the relevant data, all within Jira, by having a look at our audio guide company new support portal.
Simplifying issue creation for customers
In our Jira Service Management form, we've set up two Elements Connect custom fields:
The first one, Product, is an autocomplete field that fetches its values from the company's Salesforce. It only suggests products owned by the current user.
The second one, Device, is also an autocomplete field. It displays all devices of the previously selected assets owned by the current user as we've set up a field dependency between this one and the Product one.
The customer only has to make these two selections, write a description of his problem, and the support team will take care of the rest.
Sharing customer data from Salesforce with Jira Service Management agents
That's not all. Elements Connect can also help your agents and support managers deliver the right answers, faster.
To provide agents with more context, we've set up several Elements Connect read-only fields that are displayed on the agent view of the tickets:
Account owner so the agent knows which Sales rep to contact if he needs to.
Account which captures the client's company name
Opportunities so the agent knows the deals currently in discussion and what's at stake
Phone number so the agent can call the customer if needed
Customer priority which correspond to the level of support offered to the customer
We've used Elements Connect capabilities to customize the display of these custom fields to highlight important information and display opportunities in an easy to digest table.
During the create issue transition, Elements Connect queries Salesforce to fetch the value of these fields based on the email address of the reporter.
This way the agent has a comprehensive view of the customer context without leaving the Jira interface and can provide fast, accurate answers to the customer's problem.
Using Salesforce data to prioritize tickets and create queues
We can go one step further and use the information fetched from Salesforce – here the Customer priority for instance – to configure the Jira Service Management queues.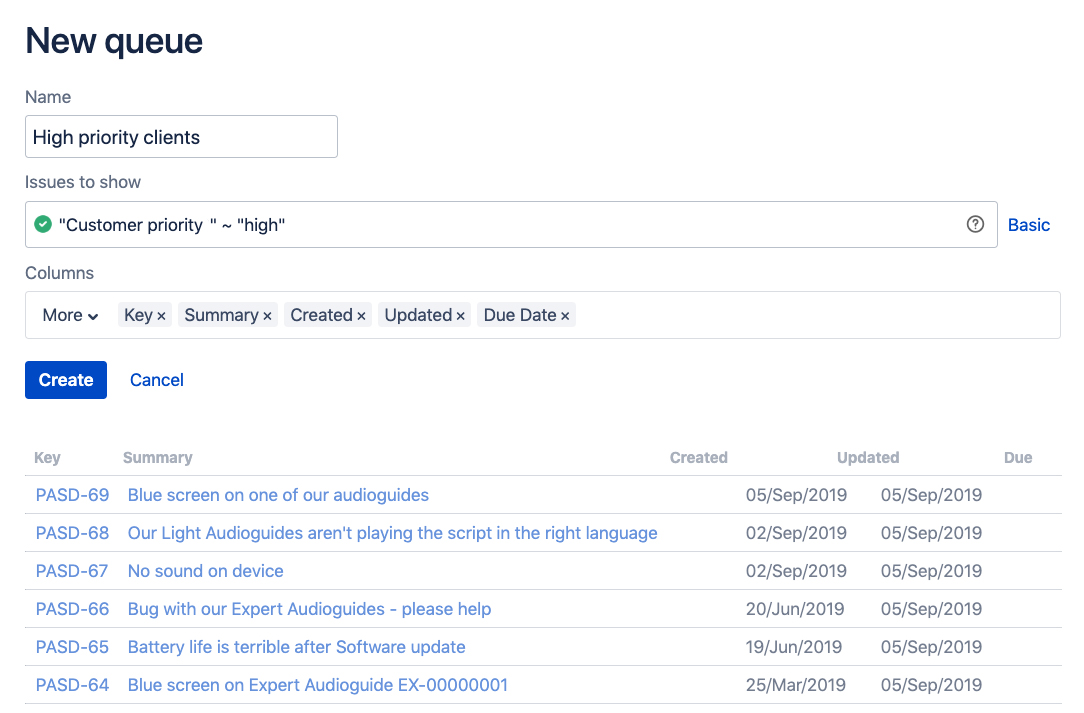 This allows the Support team to prioritize the request based on customer data that can be related to the account, the assets… or any Salesforce object.
Integrate Salesforce and Jira today
In this blog, we've seen how you can use Elements Connect to help support teams easily deliver the instant, personalized service that drives growth and exceeds customers expectations.
Do you want to see your Jira Service Management agents experience the same benefits?
Try Elements Connect today!
P.S. If you want to see more examples of how Elements Connect help teams be more efficient and informed, check out our demo portal. It's full of use-cases inspired by real-life scenarios. You can also download the field configurations for this example.