NEW on Jira Cloud!

Built to help you manage issue escalation, change requests, incident management, and more. Get information where it needs to go for your teams working in Jira Cloud.
Automate custom copies between Jira projects quickly and easily
Create a customized copy of an issue, in a few clicks or automatically on transition. Changes to fields, comments or attachments can be automatically synchronized to the copy. It's ideal for use-cases like issue escalation, change requests, incident management, epic refining and more.
Guide Jira users with easy to configure recipes
Create powerful recipes users will find easy to use, no coding required. Pre-select issues types, projects, status, or even labels or priority to control where and how recipes can be used. Recipes can be selected from an issue, or triggered automatically to create issues on transition by using recipes as post functions.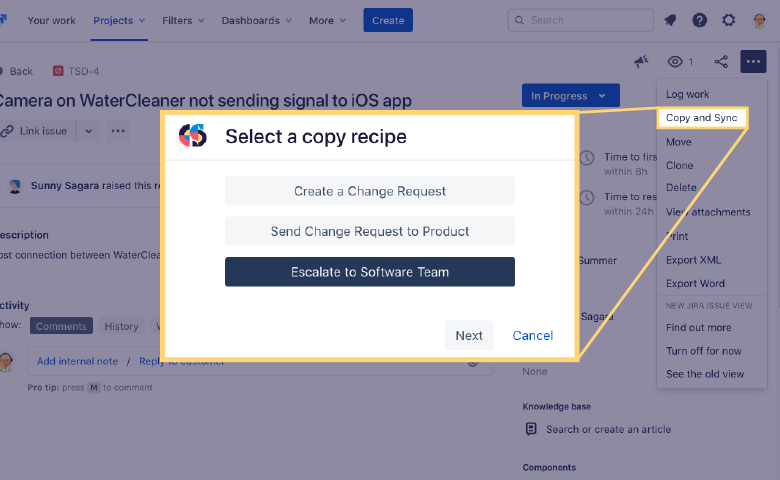 Keep your Jira issues in sync
Customize how an issue and its copies are synchronized, including comments and attachments. Elements Copy & Sync updates copied issue fields if data changes in parent issue and synchronizes changes in comments and attachments. Best of all: no action is needed because updates are automatic when the option is activated.
What are the differences between the Jira Cloud and Jira Server / Data Center versions of the app? 
If you've used the Server/DC version of Elements Copy & Sync, you'll recognize the core features of copying, linking, and synchronizing fields, comments, and attachments across issues. To provide a more user friendly experience the Cloud version configuration has been simplified and streamlined. Some features available on Server are not currently available for the Cloud version but may be on the roadmap.
Check the full Server vs Cloud feature comparison on our documentation.
What is the pricing for Elements Copy & Sync?
Elements Copy & Sync for Jira Cloud is sold as a monthly or annual subscription, and calculated by the number of users you have on a tiered basis.
See our documentation for full details of the pricing.
Elements Copy & Sync for Cloud can be used in what kind of processes?
If you need to share information across teams, for example to escalate an issue, manage incidents, or track change requests, Elements Copy & Sync can automate that process. It can also be used for Epic refining or to create Epics or Stories from support tickets.
Will Elements Copy & Sync for Cloud work with Jira Core/Software/Service Management?
Elements Copy & Sync can be used with any of the Jira Cloud products: Jira Core, Jira Software, or Jira Service Management.
Are there any limitations as far as type of Jira project (classic vs next-gen), or Jira issue view (new vs old)?
Elements Copy & Sync can be used with both classic and Next-gen Jira projects, and on both new and old issue views.