Display Jira comments in Confluence
Create knowledge base articles or FAQs that include the detailed instructions from a support agent by inserting the 'last comment' variable onto your template. When support agents detail the steps to follow to solve a problem in the reply to a Jira Service Management request, you can make that information available for future users of the support portal. Embedding Jira comments onto new Confluence pages with Elements Publish will help you quickly build out an entire library of how-to's and FAQs.
Use a Confluence blueprint or design a custom article layout
Insert the key data from your JSM request, like the last comment, into standard Confluence templates like the How To and the Troubleshooting templates. Or select a custom template your team created. If you don't have permissions to modify Confluence templates and add the Elements Publish macro, set up your article layout directly from Elements Publish. Whether you use a standard blueprint or design your Confluence page from Elements Publish, your new knowledge base articles can look great.
Control how you trigger article publication
When do you want to create your knowledge base article: when the request is resolved, when the agent decides, or based on something else like a field value or label? Elements Publish recipes can be triggered manually, as a post-function on a transition, or by any of the triggers in Automation for Jira thanks to our public REST API. Depending on the process that works for your team, you can let agents chose when they create a new knowledge base article, or set it and forget it so there's no extra step for agents.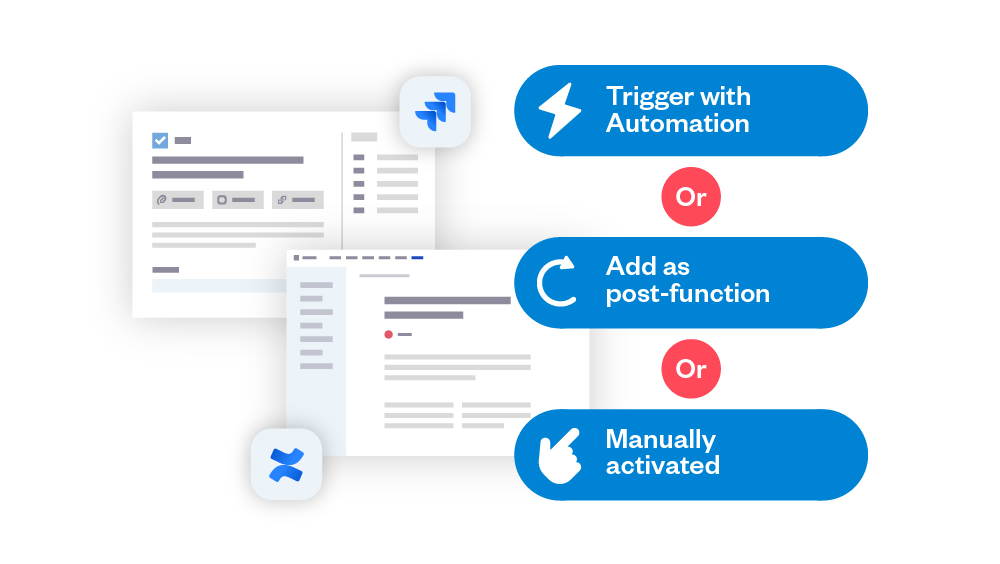 We also have a tutorial showing you how to copy comments from Jira issues with an Elements Publish recipe. Read it here >