A recent IDC report states 89% of organizations plan to implement a digital-first business strategy. The most successful digital-first companies have a ticketing and issue tracking system capable of two critical aspects for their corporate support requests. 
First, their system offers a clear, dynamic, and accurate menu interface for all employees or customers to raise their requests. Second, they've integrated this system with software where all employees already work everyday, so raising a request, filled with the right details in the flow is easy. 
A winning combination: Jira + Slack + your external datasource
Atlassian's Jira is renowned in the industry for being the solution of choice for tracking IT, development, and business operations tickets across the organization. 
To accelerate your digital-first strategy, Elements Connect brings external data inside Jira custom fields. Nextup.ai offers Jira Integration+ to manage Jira projects from Slack without switching context, and HelpDesk+ to provide Slack first support with Jira Service Management.
Now combining the power of Elements Connect integration with Nextup Integration+ and HelpDesk+, customers can use the power of Elements Connect directly within Slack.
Per a recent 451 Research and Atlassian report, 96% of customers saved at least two hours per week per employee integrating Slack and Atlassian.
Why is this beneficial?
With Elements Connect working natively in Slack, employees can:
easily select their requests in clearly defined menus thus

reducing errors and improving accuracy

. 

stay in Slack

reducing context switching and increasing efficiency by making requests creation more conversational

.
Use case: helping a United States Government Agency scale its operations through the pandemic
A United States Government Agency is overwhelmed with the amount of internal requests and the situation was made worse by the pandemic. They have Jira Service Management and Slack in place, but the number one request from users in recent internal survey was to integrate the two platforms to reduce switching and simplify the process.
This government agency is implementing Elements Connect and Nextup HelpDesk+ to better manage and administer much of their internal requests. 
With this integration internal users can raise requests for teams within the agency right from Slack, and with Elements Connect the complex back-end systems are simplified and visible right on the Slack forms.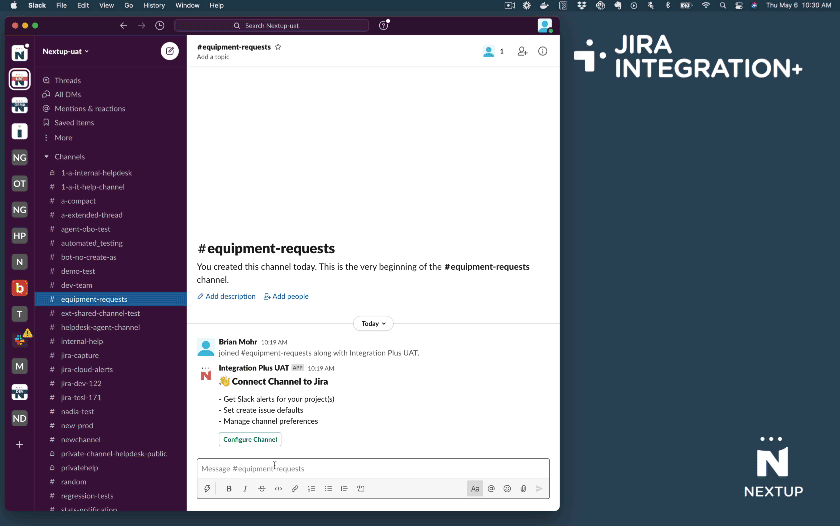 The Elements Connect and Nextup HelpDesk+ interface reduces errors and provides accuracy on critical data required to keep things moving smoothly.
This Government Agency which services over 100 million people is now more citizen-centric and capable of handling peaks of requests while remaining reactive.
Supercharge employee productivity with an end-to-end integration
In an era of constant sollicitation, and tools multiplication, stopping context switching and making the issue creation experience more conversational in Slack dramatically reduces the risk that a user will forget to log new bugs or raise a request. It also boosts productivity by saving everyone 2-hours a week according to a recent study by Slack and Atlassian. 
Now, the only questions you need to ask yourself: how much time could this solution save your teams? Is this time saved worth the initial investment? 
At Elements and Nextup, we believe that focused and aligned employees are more productive, and that every recurring timeloss spared matters. 
For more information about this tandem, you can get a free trial of both apps on the Atlassian Marketplace: