Here at Elements we aim to release regularly, with new features that are useful for our users. For that reason, we are happy to announce that we have just released a new feature version of Elements Connect: 6.1.0
This version brings four improvements and some bug fixes.
Since a release note is rarely enough to give you a good idea of the new features, we've presented them here, including one in action.
Facilitate issue assignments with Elements Connect
It is common to see large teams split in sub teams, front office vs back office for example.
A typical problem for team managers working in this type of team arises when it comes to assigning issues: each sub-team has its own responsibilities.
Some issues are under the responsibility of the back office team, other are reserved to the front office team.
In order to assign issues, the project lead has to select a member of a particular team based on the nature of the work to accomplish.
The problem is that the Assignee field available in Jira is not dynamic; it proposes all the assignable users of the project. It can be troublesome for the project lead to find the right team members if the list of assignable users is in the hundreds.
With this new release of Elements Connect, we'd like to propose a better solution.
In our example, issues are assigned by the project lead during a transition using a transition screen.
In this screen, the project admin is asked to select two values:
Group: where he or she can select the team in charge of this task (back-end, front-end or database) – we use an Elements Connect field that fetches groups from the Jira database
Filtered assignee: the team member that will be assigned to the task – we use another Elements Connect field of type "Live User" which fetches all the user members of the team previously selected in the "Group" field
Once the transition is executed, the user selected in the Elements Connect Filtered assignee field is automatically copied into the Jira Assignee field.
This example uses the Elements Connect functionality to copy a key value to an issue field, but with the new possibility to select a Live User as a source field. Previously this function could only be used with Live Text Elements Connect fields.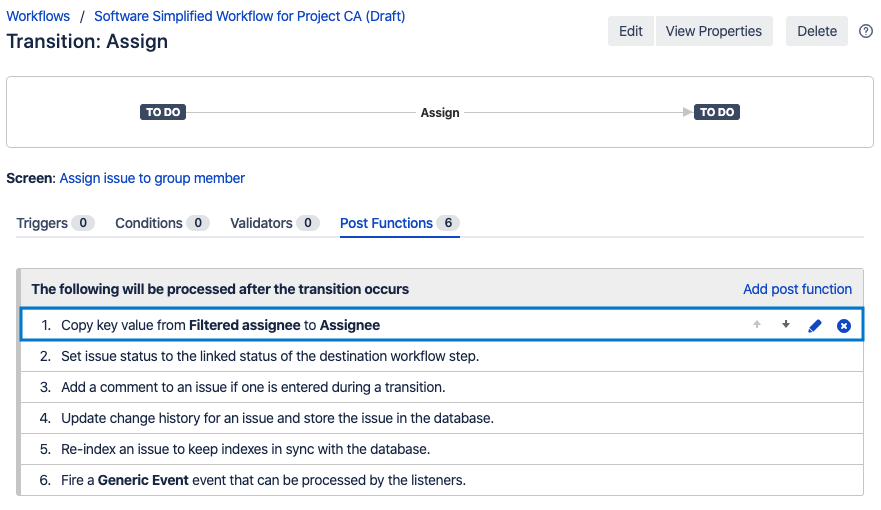 This is the new feature brought by this version: you can now use "Jira User field" as source of this post function.
Here's to smoother assigning for everyone!
Other new features in Elements Connect 6.1.0
Load Balancer stickiness strategy
Jira administrators of DataCenter instances can now configure the load balancer stickiness strategy used by the load balancer.
We currently support two strategies: "Specific load balancing cookie" and "Tomcat JSESSIONID".
This setting is required if you want to use the Jira REST API as datasource.
Evaluated HTML returned by datasource
With Elements Connect 6.0.2, we fixed a security issue: HTML returned by datasource is not evaluated anymore on display.
Our objective was to avoid potential XSS attacks.
While it helped us provide a more secured app, it also frustrated some of you. It turned out many of you want to display the HTML returned by the datasource.
With this new version, you can now choose whether or not the HTML returned by the datasource shall be evaluated or not.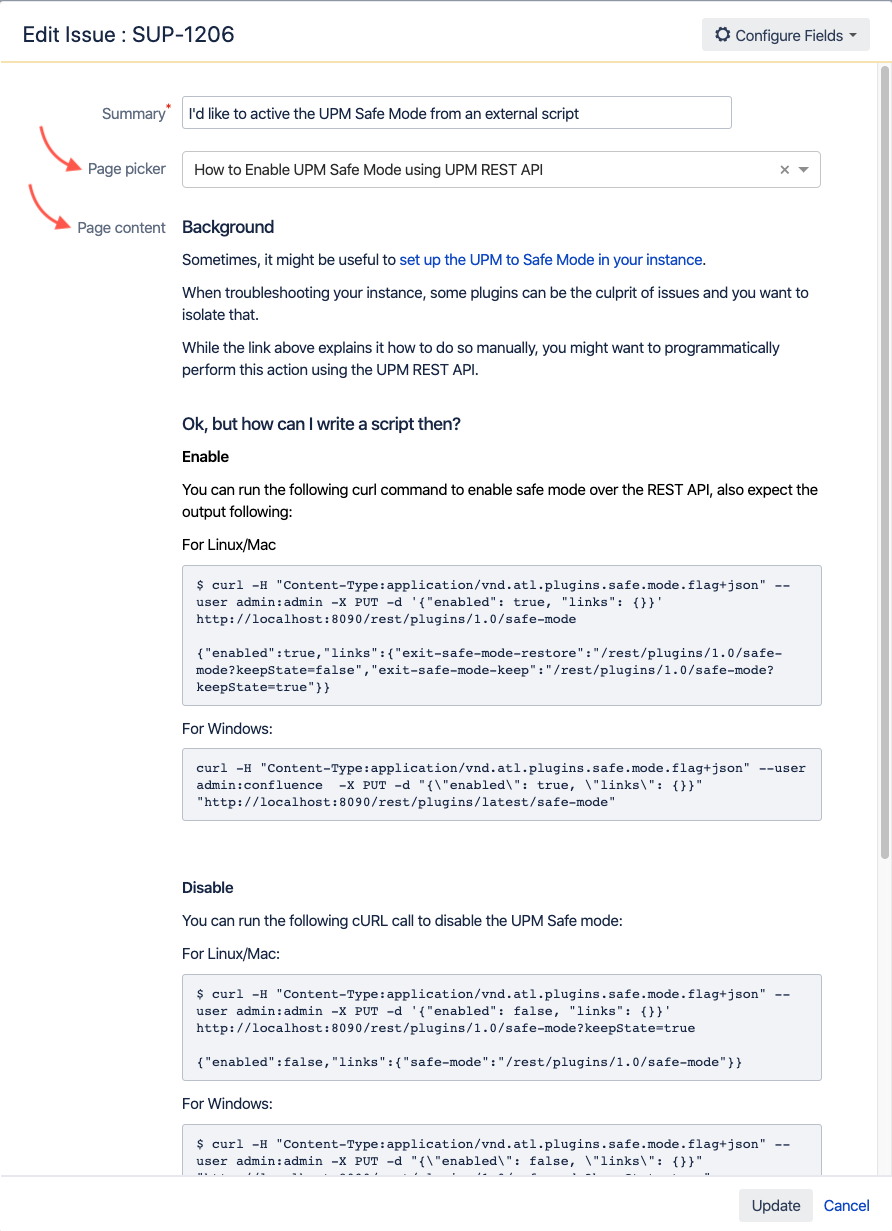 In the screenshot above, Page picker is an Elements Connect field listing Confluence pages and Page content is another Elements Connect field which display the content for the page selected as it is returned by Confluence.
This option is available in the "Advanced options" dialog in the "Edit view" tab of the field configuration.
Dynamic queries based on the JSD Organization field
Have you ever been in the situation where you needed more information related to a customer organization while working on a JSD request? For example the other issues raised by other members of the organization, or the assets owned by the organization?
If you haven't yet, other Elements Connect users have! That's why we have added the support of the Organization field in the field queries.
Now you can configure dynamic queries based on the organizations who have access to a JSD request.
Coming soon for Elements Connect
We hope that these new features will help ease the work of your Jira users, and we aim to release the next feature version of Elements Connect in a couple of months.
Our team is also working on our next big project: Elements Connect for Jira Cloud!
It's still at its early stage, we'll publish something on the Marketplace in a few months.
If you are a Jira Cloud user or aiming to migrate your Jira Server instance to Cloud and want to keep your fields connected: learn more here.