Elements Checklist lets you create checklists in Jira that include a number of different kinds of attributes, such as text, dates, users, select lists, or numbers. If you need to track numbers as part of your checklist, chances are you would also like to be able to calculate something with those numbers, whether it's a simple total or a more advanced formula. Maybe you imagined a table grid format to list your items and set up calculations.
If you are looking for smart Jira issue checklist with calculated attributes, read about these three Elements Checklist examples to get some ideas on how you can leverage this app to building advanced checklists.
Simple checklist calculation
Imagine you use Jira to plan events such as trade-shows. If you are preparing a trade show booth, listing the number of items you will need for the event on your Jira issue will help you stay organized and keep track of inventory. For a multi-day event, you might want to list separately the quantities of each item to plan for each day since booth traffic or session participation can vary from day to day.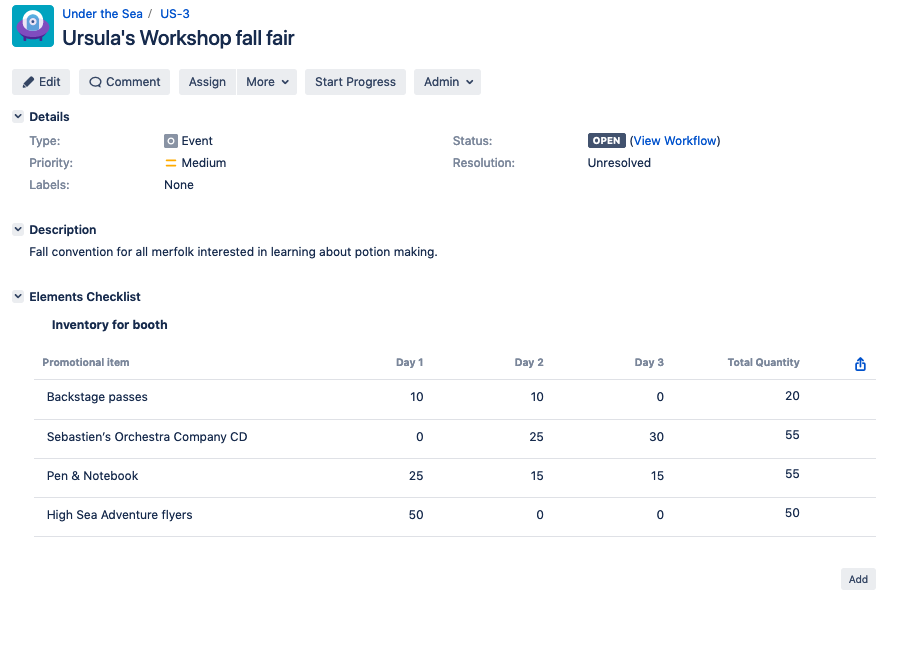 Elements Checklist is configured at a project level, so you can define as many checklists as needed for a given project in the Jira project settings.
For our "Inventory for booth" checklist, we set up the first column as a text field in order to indicate the item to pack, then three columns as number fields to fill in the quantities for the three days of the trade show, and finally a 5th column as a calculated attribute that adds up the quantities indicated in the previous columns. This calculated attribute is automatically updated each time a quantity is changed, like a table grid.
Here's how the attribute "Total Quantity" is configured in Elements Checklist.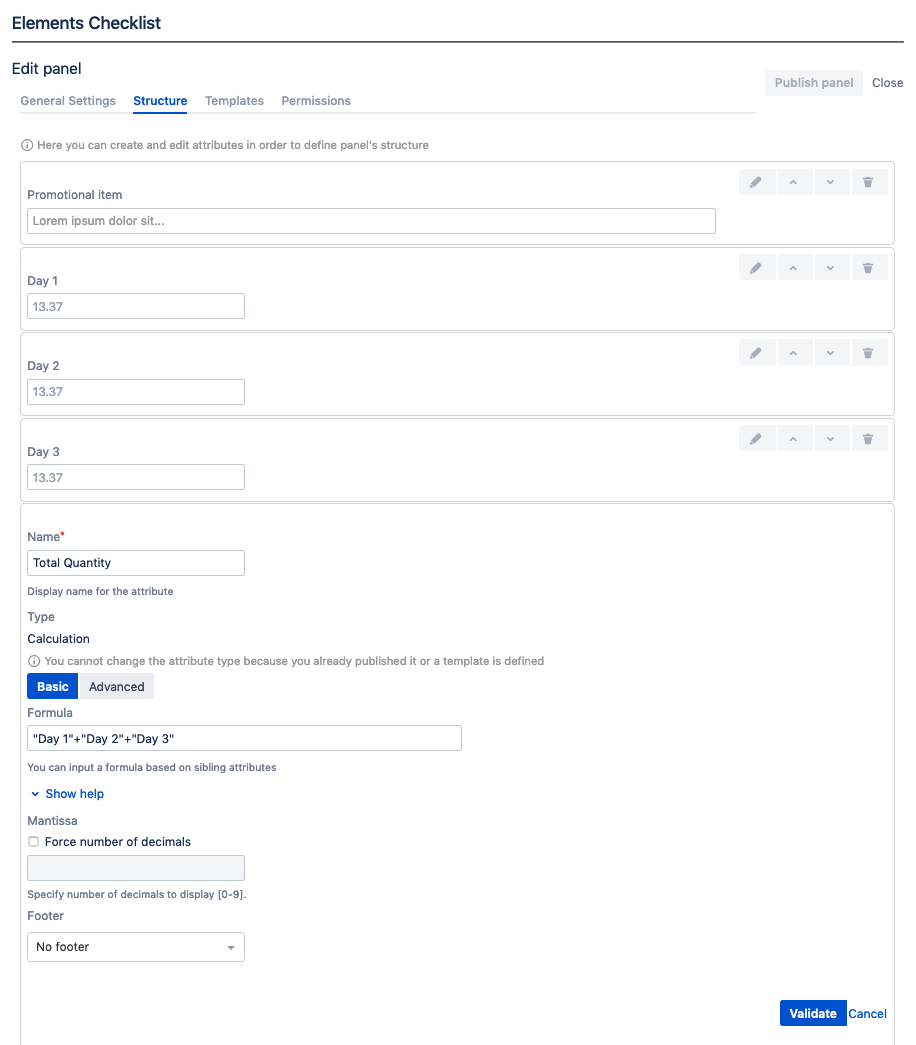 Basic formulas are ideal when you need to calculate without a condition: add, subtract, multiply or divide the fields of each checklist entry. You can see the app allows you to easily reference other checklist attributes in your formula.
Advanced calculations with logical expressions

If you need to perform more complex calculations, calculated attributes Advanced mode will let you set "If, else" conditions.
Do you have a checkbox that should impact a calculated attribute? Take advantage of the fact that a checkbox can be used as part of an equation in order to calculate a final price in this example of preparing supplies.  Here you can see some of the items on the list include VAT, and others don't, and the price is correctly calculated with the VAT value of 15%. Handy, isn't it?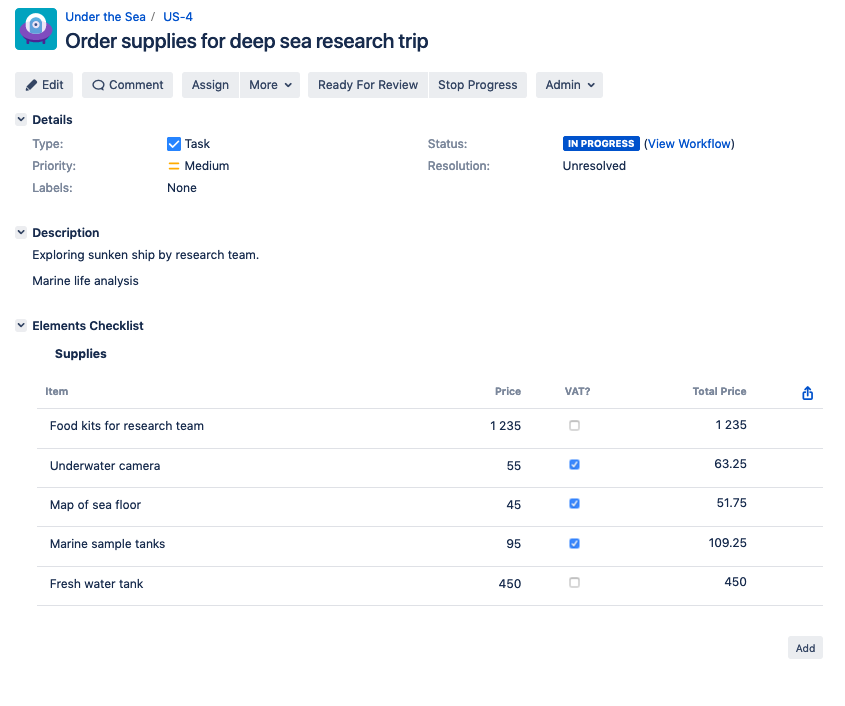 A checked box is evaluated as 1, which lets us create an equation. Here's how we set up our "Total Price" attribute in Elements Checklist so it includes VAT only when the checkbox is ticked.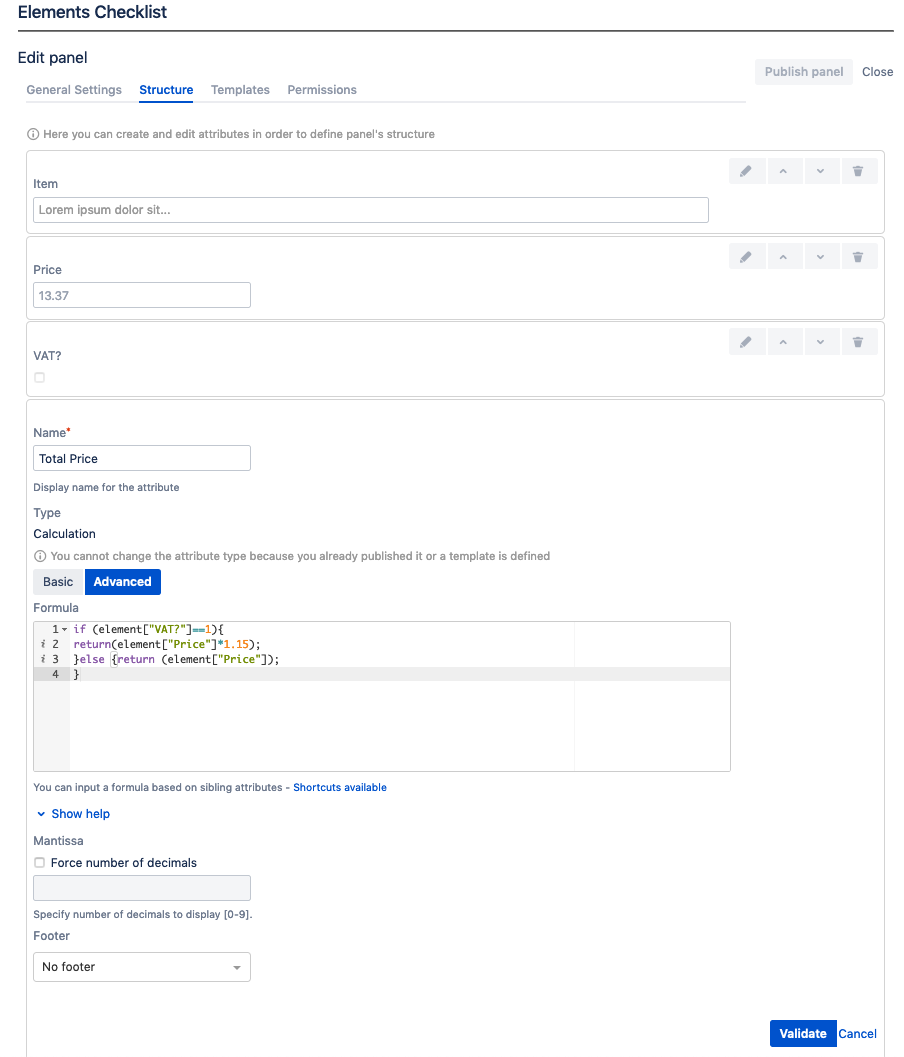 Using the checkbox for a calculation could be used as an initial condition to determine whether or not another calculation needs to be done, or simply if some other kind of data should be shown.
Create a personalized pricing matrix
What about repeat orders of items, such as promotional items for a training session? or when you need to request a quote involving several products from your catalog?
With select list options and a calculated attribute set up with the price of each item, you can easily create a personalized pricing matrix using Elements Checklist.
In this checklist, the first two columns are select list fields, the third a number field, and the last a calculated field that includes the prices of each item in the formula. The footer option is set to Sum automatically calculates the total of your items.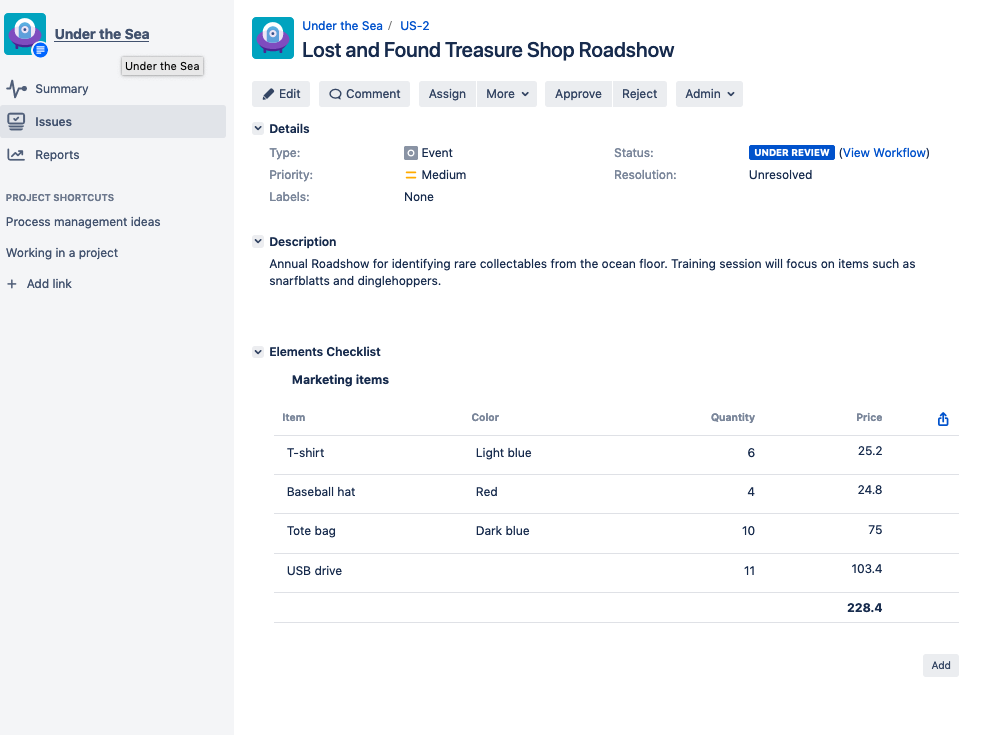 By using select list options, you control the data in your Elements Checklist, which means you can set up the calculation in advance so everything runs smoothly for your team members.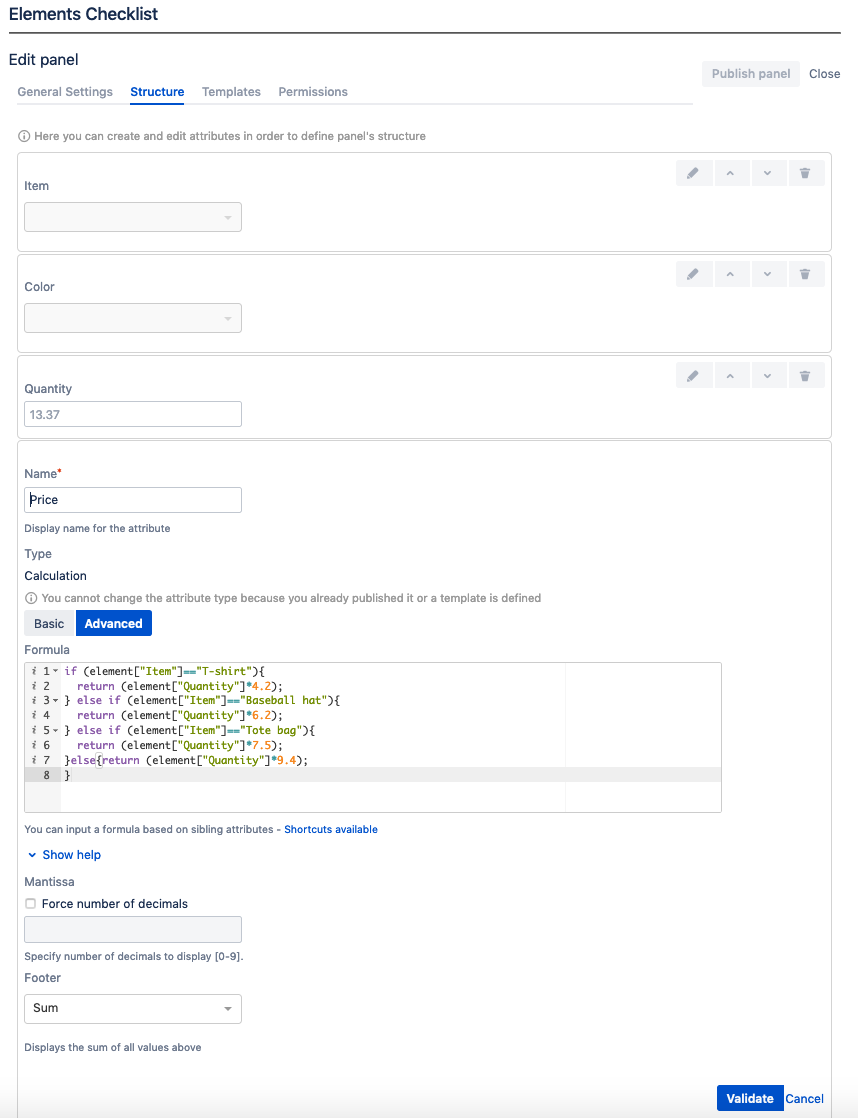 Tip
If you need to modify the options in the select list, click on the eye symbol to hide the old option without impacting issues that have that choice selected.
Discover all the possibilities for calculated attributes
We've only scratched the surface in terms of possible ways to include calculated attributes in your checklist. If you want to get details on how to create calculated attributes, check out our documentation for Elements Checklist.